The video, produced by Xinhua, China's official news agency, ridicules India and Indians, and has poorly spelt subtitles and racial stereotypes.
Illustration: Uttam Ghosh/Rediff.com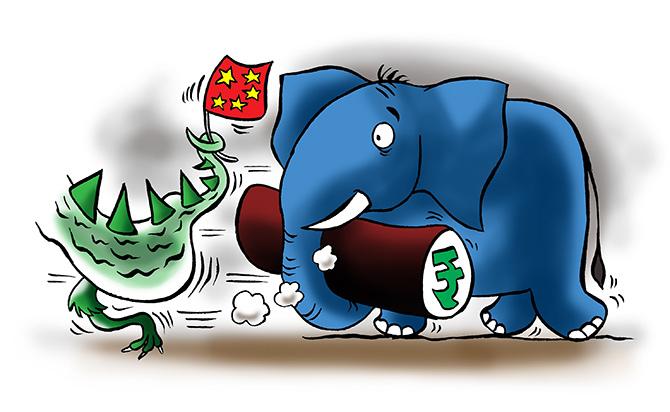 Reactions ranging from righteous indignation to pure amusement greeted a Chinese media video accusing India of committing 'seven sins' in the two-month-long Doklam standoff near Sikkim.
The three-minute video, produced by Xinhua, China's official news agency, ridicules India and Indians, and is embellished with poorly spelt subtitles and racial stereotypes.
The video, featured an edition of Xinhua's new Spark show, features anchor Dier Wang accusing India of 'sins' that include 'trespassing, confusing right and wrong, putting the blame on the victim, hijacking a small neighbour and sticking to a mistake knowingly'.
It has been posted through Xinhua's English-language account on Twitter. The micro-blogging site is blocked in China.
An actor with a stick-on beard and heavily accented English parodies Indians to accompanying synthetic laughter.
'Do you negotiate with a robber who had just broken into your house... You just call 911 or just fight him back, right?' says Wang.
911 is an emergency hotline only in the US.
The actor, apparently representing a Sikh, answers: 'Why call 911 -- don't you wanna play house, bro?'
'Racist Xinhua video mocks India on 7 sins on border by having host dress up in turban (imagine outrage if Chinese was portrayed like this),' an Indian commented on Twitter.
'Pretty funny video clips and you call it racist. Your 56 inch chest leader dressed up in turban, such a fragile heart, LOL,' a Chinese commentator retorted.
Indians were also a bit confused about how to combat the Chinese outside Doklam and how to take nationalism beyond social media.
A few days ago, the Bharatiya Janata Party's Karnataka unit briefed reporters and said it would ask its workers to boycott Chinese goods.
'Party workers will be asked to burn Chinese goods outside their homes or throw them out of their house,' a party leader told reporters in Bengaluru.
But would the party leadership and workers really burn their iPhones? 'We do not know the exact content to be burnt and will await further instructions on the movement,' said the leader after a pause.
The Swadeshi Jagaran Manch, an affiliate of the Rashtriya Swayamsevak Sangh, has, in a letter to Prime Minister Narendra Modi, sought prohibition on any new venture or allowing Chinese firms setting up manufacturing facilities here in light of the 'continued transgression and intimidating activities at the border'.
The SJM is observing 2017 as 'anti-China year', and claims it has so far got around 'one crore people' to pledge that they would boycott Chinese products.
The Xinhua video is reminiscent of a Blake Edwards film starring Peter Sellers, The Party.
Sellers, Hrundi Bakshi in the film, plays a bumbling Indian extra in Hollywood who wears a large headgear that is a cross between a pugree and a Sikh turban.
After destroying a massive (and hugely expensive) film set and vowing he will never act in films again, he is invited to a Hollywood party, the result of a clerical error.
While wandering around in the party and causing a series of upsets and social gaffes, he stumbles and splashes red wine all across a guest who is wearing a light coloured suit.
As the man struggles to mop himself, he asks Sellers crossly: 'Who do you think you are?'
Sellers adjusts his headgear, pulls himself up to his full height and replies: 'We Indians don't think who we are. We know who we are.'
This line was one of Indira Gandhi's favourite ones in the film and was cited by Sonia Gandhi at a Confederation of Indian Industry function in 2003 to poke fun at Indian pretensions of becoming a superpower.