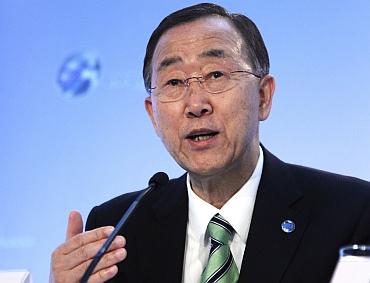 North Korea has abruptly cancelled United Nations Secretary General Ban Ki-moon's visit one day before he was due to arrive.
Ban was due to visit an industrial complex in the Kaesong economic zone run jointly by the North and South.
"Early this morning, the authorities of the Democratic People's Republic of Korea informed us, through their diplomatic channels, that they were reversing their decision for me to visit the Kaesong industrial complex," Ban said in a speech, using North Korea's official name.
Speaking at a forum in Seoul, he said the move was "deeply regrettable" and that no explanation was given.
The trip would have made Ban the first UN chief to visit North Korea in more than 20 years, and the only one to tour the Gaeseong complex, which opened as a symbol of inter-Korean reconciliation in 2004. Boutros Boutros-Ghali was the last UN chief to visit the isolated country in 1992.
Ban said he wanted to promote reconciliation. When he first announced the meeting on Tuesday, he said he would "urge North Korea to co-operate with the international community for the KoreanPeninsula and for peace and stability".
The move by Pyongyang to abort Ban's visit to the Kaesong factory park dashes what would have been a rare diplomatic opening by reclusive North Korea amid a tense standoff with South Korea. The park is just a few minutes'' drive north of the heavily fortified border between the rival states.