For most affluent families in Kerala, marriage is reduced to an occasion to flaunt their wealth. Now, the Women's Commission in the state wants marriage expenses to be capped at Rs 6 lakh. A Folomojo contributor examines.
If you are planning to solemnise a wedding in Kerala, hold on. If the Kerala State Women's Commission has its way, you can't spend more than Rs 6 lakh on the wedding.
Here go the Commission's other edicts:
* The bride shall not wear more than 120 grams (15 souvereigns) of gold;
* The bridal wear should not cost more than Rs 20,000;
* The groom's outfit should be within Rs 15,000;
* Invitation cards should not cost more than Rs 25;
* The guest number shall not cross 200;
* The auditorium rent should be less than Rs 50,000;
* The cost of decorations shall not cross Rs 5,000.
The Women's Commission's sudden pro-activism has caught many by surprise, because no governmental body or social organisation has so far dared to put a ceiling on wedding expenses which is considered an individual's prerogative.
The commission has not said the last word on it. The bill mooted by it has to be enacted by the state assembly before it comes into force.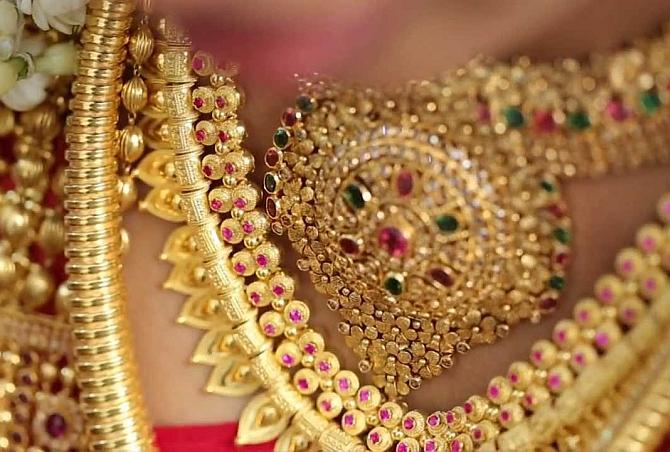 State Social Welfare Minister Dr M K Muneer and Women's Commission Chairperson K C Rosakutty stoutly defend the recommendations, holding that the dichotomy between those who shell out astronomical sums of money on marriages and those who struggle to marry off their daughters is widening and creating social tension in Kerala.
Interestingly, social organisations like the Nair Service Society, Sree Narayana Dharma Paripalana Yogam and the Brahmana Sabha or Christian and Muslim religious leadership have not reacted to the Women's Commission's guidelines.
Obviously, they know that regulating marriage expenses is easier said than done and that there would be powerful backlash from the affluent sections if their individual freedom is infringed upon.
In theory, the Women's Commission's initiative is very timely and forward-looking.
For most affluent families in Kerala, marriage is reduced to an occasion to flaunt their wealth.
Their current rage is to engage reputed event management companies to conduct marriage ceremonies. No tax is imposed on expensive weddings.
According to industry circles, Kerala now uses up to 400 gm of gold per wedding on an average which works out to around 80 tonne per year.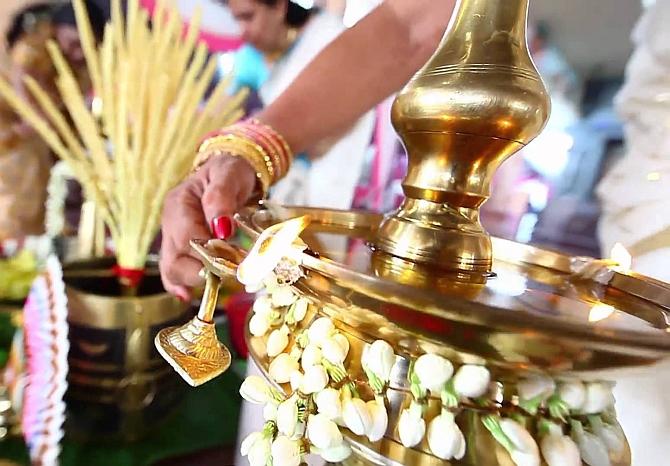 But the moot question is: Can marriage expenses be regulated by law?
It looks as futile an exercise as banning other social evils like prostitution, dowry, drinking, untouchability etc.
Even the Kerala high court's ban on bandh has abysmally failed to bring the desired result.
Keralites are known for their penchant for conspicuous consumption. They splurge money not only on marriage but also on palatial buildings, liquor consumption, luxury cars and what not.
Will the government show the political will to regulate such extravagant social spending?
So long as the government does not have the will to curb such social evils, the best course would be to launch a high-voltage public awareness campaign against such evils and motivate the public to observe voluntary regulations.
Social organisations like the NSS, SNDP and religious authorities of Christians and muslims can play a pivotal role in it.
For instance, the NSS has, through its extensive network of Karayogams (local branches), issued guidelines on simplfying funeral rites and minimising expenditure.
The Karayogams have also floated a 'Death Fund' to finance the funeral expenses of poor members of the Nair community.
This initiative by the NSS has received overwhelming support from the community and is a great boon to poor families.
More than legal remedies, such effective interventions by social organisations can go a long way in changing the typical Malayali habit of showing off.
The Women's Commission prescribes only a fine for defaulters. Which means you can indulge in any kind of marriage extravaganza and get away with it by paying a fine.
Also Read:
10 stunning photographs that capture the beauty of monsoon in Kerala
9 Kerala dishes you must absolutely try before you die