Curfew-like restrictions have been imposed in the area, which is the headquarters of the Dera Sacha Sauda sect.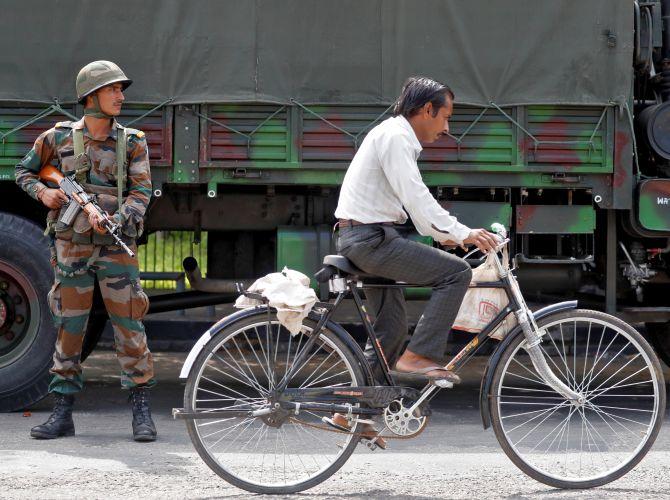 IMAGE: Security has been upped in the area and Schools, colleges, cinema halls, petrol pumps have also been shut as a precautionary measure. Photograph:

Cathal McNaughton/Reuters
Surender Kaur is unable to withdraw money from banks or ATMs to meet her daily household needs for the last two days while Manjeet Singh is not able to get fuel in his motorbike at petrol pumps which are closed after authorities clamped strict restrictions in the town of Sirsa.
Normal life in Sirsa, which is the headquarters of Dera Sacha Sauda sect, has come to a standstill after curfew-like restrictions were imposed to prevent any untoward incident after the large scale violence by the followers of sect chief Gurmeet Ram Rahim Singh, who was convicted by the Central Bureau of Investigation court in a 15-year-old rape case.
Milk supply has also been affected adversely in several areas as the agitated followers set a milk plant on fire, located near the sect headquarters.
After the CBI court in Punchkula pronounced the Dera Sacha Sauda chief guilty in the sexual exploitation case, followers went violent and set a milk plant on fire, police said, adding that flames were doused within a few hours.
Hotels here too are facing the brunt as they are running out of supply of essential items. Also, hotel staff are not able to reach their workplace due to the restrictions.
"For the last two days, I am unable to buy essential items for my household as I have ran out of money and also banks and ATMs are closed. Authorities should ensure that essential facilities are open so that people won't have to face any problem," said Kaur, whose house is about four kilometre away from the Dera headquarters.
Apart from Kaur, Rajesh Kumar, who runs a hotel in the vicinity of the sect headquarters, said, "As there have been huge shortage of vegetables and essential items. We are only providing accommodation to our guests and not lunch, breakfast and dinner since Thursday night."
Schools, colleges, cinema halls, petrol pumps have also been shut as a precautionary measure.
Authorities have imposed curfew in areas, which are in the vicinity of the Dera headquarters, on Thursday.
People have been asked to stay indoors in the wake of violent protest by Dera followers on Friday evening.
Two companies of army from Hisar district, ten companies of paramilitary forces – the Central Reserve Police Force and the Border Security Force, the Rapid Action Force and several companies of Haryana police have been deployed to maintain law and order in Sirsa district.
In the violence on Friday night, two Dera followers were killed while seven injured, authorities said.
Out of seven, the conditions of three Dera followers are said to be critical.
Inspector General (Hisar range) A S Dillion said that police have been monitoring the situation in and around Dera headquarters.
Sirsa Superintendent of Police Ashwin Shenvi said that army has been called to maintain law and order situation in the district.