'All the farmers and tribals were told to bring their own wood and ration to cook food during the march.'
'We drank river water and relieved ourselves in forests.'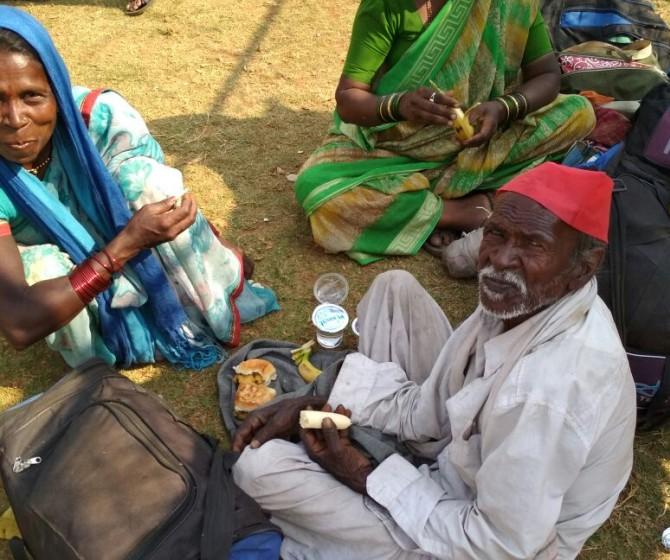 IMAGE: Farmers down a simple meal at Azad maidan, Mumbai, on March 12, 2018. Photograph: Syed Firdaus Ashraf/Rediff.com.
Dr Sudarshan Gherade, left, of the All India Kisan Sabha, one of the organisers of the farmers' long march, spoke to Rediff.com's Syed Firdaus Ashraf on how they organised the march and reached Mumbai.
'There are three main leaders for our long march: J P Gavit, Communist Party of India-Marxist MLA from Kalwan; Dr Ashok Dhawale, national president of All India Kisan Sabha; and Ajit Nawale, general secretary, Maharashtra Rajya Kisan Sabha.
'Last year the AIKS organised a dharna in Nashik -- in which 1.5 lakh farmers and tribals participated -- to demand a loan waiver and implementation of Swaminathan Commission report and Forest Rights Act (2006).
'The Bharatiya Janata Party-led government of Maharashtra had given an assurance that they will agree to our demands and told us to stop the protest. We did that but after a year, we realised they lied to us.
'This time therefore we thought that we must come to Mumbai as all ministers sit here and we can pressurise them democratically for our demands.
'On February 16 we decided that we will take out this morcha. We then made a plan about how many days it will take for the march to reach to Mumbai and where we will stay during night halts.
'This idea came during a Maharashtra state committee meeting of the CPI-M. Many farmers told us that they will support us in this morcha. They were ready to join us for this long march.
'Consequently, we contacted 32 gram panchayats around Nashik city and got one vehicle each from every panchayat to bring people to the morcha.
'All these farmers and tribals were told to bring their own wood and rations to cook food during the march. They were also told to bring spices or some kind of stove if possible.
'We left on March 6 from Nashik city with 12,000 farmers and tribals, after which different groups started joining us en route.
'Some people came from far-off places like Amravati, Sangli and Nanded. Even the Kunbi Sena came out in our support.
'After seeing that our morcha is going to be huge, we decided how many stops we will make and which places we will stay at.
'We decided to stay at municipality (buildings) when we were in cities and when we were on the road we stayed in forest areas. We drank water from rivers.
'When we began the morcha we got 60 vehicles to carry big utensils. They rode ahead of the march to cook food for us in advance.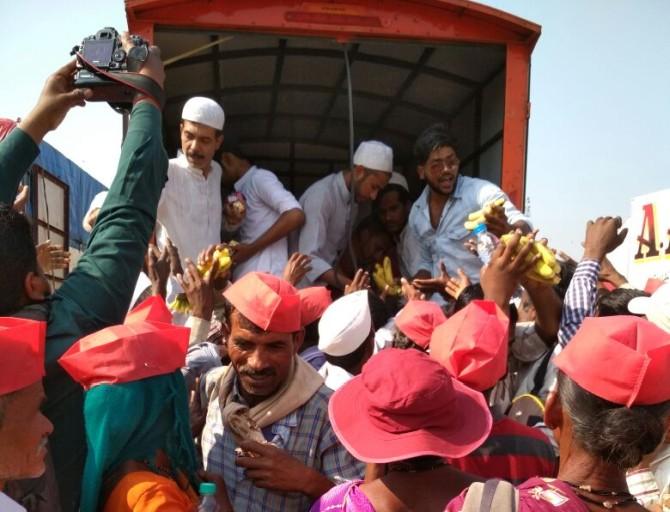 IMAGE: Volunteers offer fruits and food packets to the protesting farmers. Photograph: Syed Firdaus Ashraf/Rediff.com.
'None of us ate breakfast while travelling and we did not even take morning tea.
'And there was no luxury in food either. We only ate dal-rice. For the last one week during this long Marmh, we did not even eat vegetables.
'After walking for five hours we would reach the spot where food was cooked and get to eat. Nobody sponsored us and our brother farmers put in their own money to come to Azad maidan.
'Almost everyone's feet got blisters after walking for this long. My shoes have also torn apart but I still kept walking.
'We relieved ourselves in the forests during the march but when we reached Thane City, Eknath Shindeji (Shiv Sena legislator and a minister in the state government) helped us by providing mobile toilets.
'The same way at Somaiya ground in Sion, Mumbai, we were provided mobile toilets.
'The government made all efforts to stop our morcha at Somaiya ground itself so that we would not reach Azad maidan.
'They told us that Class 10 and Class 12 exams were on and it was not right for so many people to block the traffic on Monday.
'We immediately decided to leave for Azad maidan on Sunday night itself. So we left Somaiya ground on Sunday at 10.30 pm.
'We walked all night to reach Azad maidan. Maharashtra Navnirman Sena chief Raj Thackeray and even Shiv Sena leader Aditya Thackeray came to support us.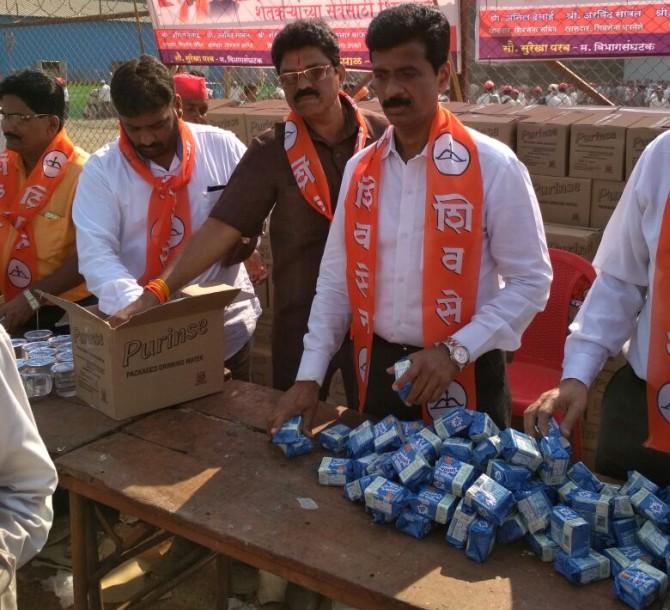 IMAGE: The Shiv Sena, partner in the Maharashtra government with the BJP, set up stalls to offer water and refreshments to the protesting farmers. Photograph: Syed Firdaus Ashraf/Rediff.com.
'These farmers are not from any party. They want their demands to be met and they are not interested in party politics.
'What disappoints farmers is that in the name of land acquisition for constructing highways and metros, the government is grabbing our land.
'I personally feel that they are constructing all these highways to connect to Nagpur.
'The government has plans to grab 50,000 acres of land from farmers in the name of development.
'They want to extend NH 166 and join Konkan to Nagpur via Kolhapur, Solapur, Latur and Nanded.
'They are building this huge highway and at the same time not implementing the Forest Act because they want to grab the land of tribals as well.
'The government is not willing to add the names of adivasis to their land records. They are purposely doing this.
'When we were coming from Nashik, no major news organisation gave us coverage except TV9 and Saam TV.

'Now we are in Mumbai and everyone in the world is aware about our morcha.'
Photographs: Syed Firdaus Ashraf/Rediff.com.