The much-vaunted meeting of anti-Bharatiya Janata Party outfits, organised by Bihar Chief Minister Nitish Kumar, will be held in Patna on June 23, his deputy Tejashwi Yadav said on Wednesday.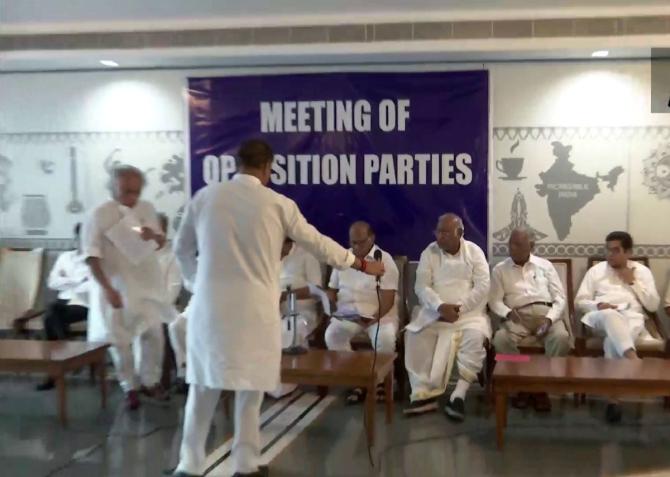 Addressing a press conference, the Rashtriya Janata Dal leader, with Janata Dal-United national president Rajiv Ranjan Singh 'Lalan' by his side, said that opposition leaders including Congress leader Rahul Gandhi, West Bengal Chief Minister Mamata Banerjee, Aam Aadmi Party supremo Arvind Kejriwal and Left leaders, have agreed to sit together and chalk out a strategy for next year's Lok Sabha polls.
"Others who have agreed to attend the meeting are Congress president Mallikarjun Kharge, Tamil Nadu Chief Minister M K Stalin, his Jharkhand counterpart Hemant Soren, Samajwadi Party president Akhilesh Yadav, Nationalist Congress Party chief Sharad Pawar and Shiv Sena (UBT) group president Uddhav Thackeray," Lalan said.
Also, the Communist Party of India, the CPI-Marxist and the CPI-Marxist-Leninist Liberation will be represented by their respective general secretaries D Raja, Sitaram Yechury and Dipankar, Lalan added.
He, however, brushed aside speculation that the Congress was insistent on contesting "not less than 350 seats", stating, "As our deputy CM has pointed out, the country is witnessing a state of undeclared emergency. The top priority of all like-minded parties is to rid the country of the BJP."
Yadav, who had recently accompanied Kumar on his trips to various parts of the country as part of the efforts to forge opposition unity, expressed satisfaction that parties agreed to the insistence of the Bihar CM that "heads" of respective political parties attend the meeting.
"Opposition unity is a dream of our honourable Chief Minister Nitish Kumar and respectable RJD president Lalu Prasad. The meeting on June 23 is going to be a very important step in that direction," said the young RJD leader.
Notably, the meeting had earlier been scheduled for June 12, but was postponed as some parties, including Congress and DMK, found it to be inconvenient.
Moreover, state Congress president Akhilesh Prasad Singh had stated that "a chief minister and another senior leader" would represent the party at the meeting.
This appeared to have not gone down well with Kumar, who told reporters a couple of days ago that he wanted all parties to be represented by their respective "heads".
In a tweet, Congress general secretary (organisation) K C Venugopal said, "INC President Sh. Mallikarjun Kharge ji and Sh. Rahul Gandhi ji will be attending the joint opposition leaders' meeting on June 23 in Patna."
"We believe that our unity and commitment to the purpose of defending democracy is the need of the hour and we will succeed in defeating the divisive forces in power today," Venugopal said.
Kumar, who had snapped ties with the BJP last year and joined the 'Mahagathbandhan' that includes Congress, RJD and the Left, has been of the view that the formidable BJP could be defeated in the Lok Sabha polls if all opposition parties came together.
The longest serving chief minister of Bihar, who is now in his 70s, has since held several rounds of talks with all the aforementioned leaders to discuss his plans, while being at pains to insist that he had "no personal ambitions".
The idea of such a meeting in Patna was floated by Mamata Banerjee, who heads the Trinamool Congress, when Kumar and Yadav called on her at Kolkata in April.
Banerjee had evoked the memory of Jayaprakash Narayan's fight against the Indira Gandhi regime before and during Emergency to underscore "Bihar should once again take the lead".