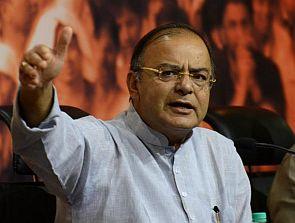 Union Finance Minister Arun Jaitley on Sunday said that the Bihar Chief Minister Nitish Kumar who at a point was fighting against 'jungle raj' (lawlessness) in Bihar, is now sitting in the lap of Rashtriya Janata Dal chief Lalu Prasad Yadav and aiding it.
"Nitish was fighting against jungle raj in Bihar for so many years and now he is sitting in the lap of the founder of 'jungle raj'. It is very clear that the dominant force in the Mahagathbandhan is the RJD. Nitish Kumar and the JD-U are the grand alliance's mask. Both (Nitish and Lalu) ruled Bihar for twenty-five years. But today also the Biharis are moving out of the state in search of opportunities," Jaitley told the media.
"The Bharatiya Janata Party wants to give a stable government to Bihar. In the last one and a half years, there has been a momentum of change in the country and similar developmental plans will be brought to Bihar. The Centre will work together with the new Bihar government in order to continue the developmental journey," he added.
Meanwhile, Prime Minister Narendra Modi while addressing a rally in Bihar's Nalanda today said chief minister Nitish Kumar need to start working on a plan as to what he will do once he loses the assembly polls.