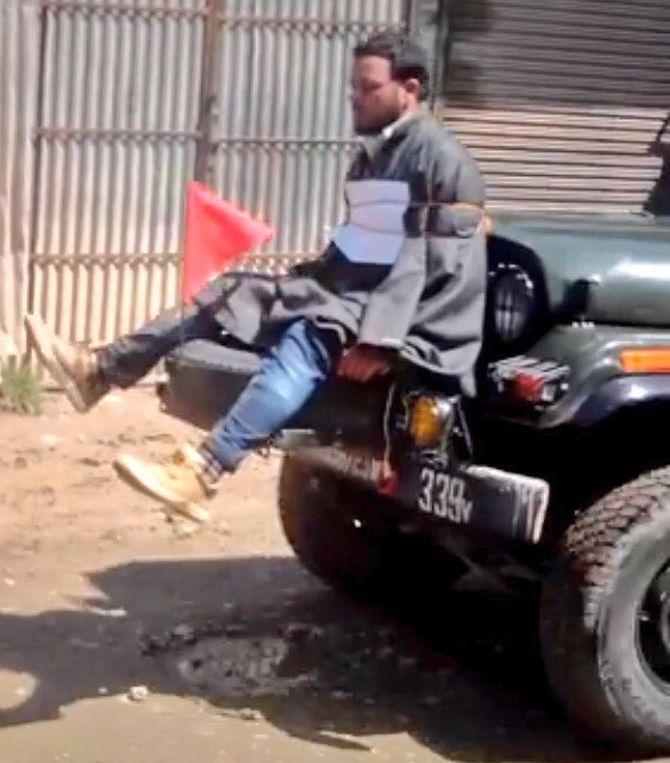 The man who is seen in a video tied to the front of an army jeep as a human shield in Kashmir's Budgam district recounts his ordeal even as massive outrage continues to pour in over the issue.
The man identified as Farooq Ahmad Dar speaking of his ordeal says that the army personnel tied him up to the jeep and paraded him through several villages for nearly five hours before his family members and villagers got him released.
The incident occurred on April 9 during the by-election for the Srinagar-Budgam parliamentary constituency. Eight civilians were killed in firing by security forces that day as mobs tried to attack some polling stations in the constituency, which witnessed the lowest ever turnout -- 7 per cent -- in its electoral history.
Dar was on his way to Gampora when he was allegedly picked up by the army troopers near Putligam and tied to the bonnet of a jeep before being paraded around dozens of villages.
"They damaged my bike, thrashed me severely with gun butts and wooden sticks and in an almost unconscious state tied me to the front of the jeep and paraded me through 10 to 20 villages," Dar was quoted as saying by the website The Wire.
"I am not a stone-pelter. Never in my life have I thrown stones," said Dar.
Dar said that he thought it was a 'miracle' that he was still alive.
He said: "At one point I had given up the hope of returning home alive… I thought all my bones have been broken as my entire body was in pain due to ruthless beating. I was in shock, not able to understand what do to as the forces kept threatening me in case I speak to anybody moving on the road. I was pleading with them to leave me but they wouldn't listen." Dar further said that he hadn't left his house since the incidence.
The army has begun an investigation into the incident and state Chief Minister Mehbooba Mufti has also sought a report from police. Former chief minister Omar Abdullah, who shared the video on twitter had strongly condemned the act.