Eight people were killed in firing by security forces as unprecedented election-day violence marred the bypoll for Srinagar Lok Sabha seat on Sunday which saw the voter turnout plunge to an all-time low of 7.14 per cent.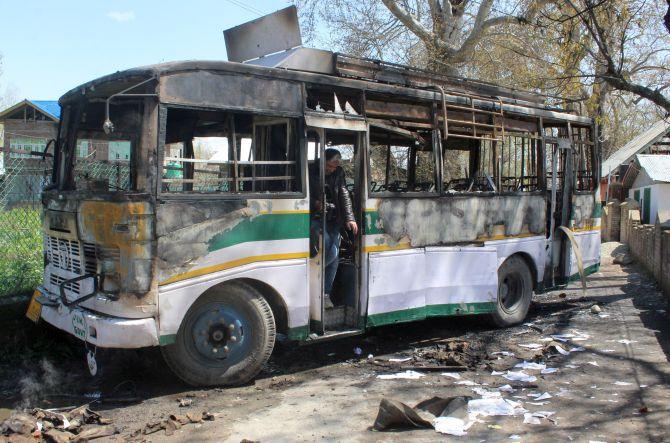 IMAGE: A charred polling staff bus following an attack by a group of protesters at Nowgam during voting for Srinagar bypoll. Photographs: Umar Ganie
Rampaging mobs took to streets in scores of places across the Lok Sabha constituency straddling Srinagar, Budgam and Ganderbal districts, perpetrating wanton violence and arson, even setting ablaze a polling station and attempting to set on fire two others, amid a boycott called by the separatists.
"The tentative voter turnout for the Srinagar Lok Sabha constituency is 6.5 per cent," Jammu and Kashmir's Chief Electoral Officer Shantmanu told reporters at the conclusion of polling. However, the revised figure issued later in the evening put the voter turnout at 7.14 per cent of the 12.61 lakh electorate.
The seat had recorded 26 per cent polling in the 2014 general elections.
In the 1989 election, National Conference's Mohammad Shafi Bhat had won the seat uncontested.
The previous lowest turnout in the prestigious seat was 11.93 per cent in 1999 when Omar Abdullah had defeated Mehbooba Mufti in a straight contest.
The state's former chief minister and National Conference stalwart Farooq Abdullah, who had lost the seat in the 2014 election, is locked in a straight fight with ruling People's Democratic Party's Nazir Ahmad Khan even though there are seven other candidates in the fray.
IMAGE: Security personnel stand guard at a polling booth during byelection to the Srinagar Lok Sabha seat.
"There were more than 200 incidents of violence in the constituency, mostly in Budgam district, which included stone-pelting, petrol bomb attacks, setting ablaze of a polling station, some vehicles and attempt to burn two other polling stations," Shantmanu said.
"It was not a good day as you know. Six lives were lost in these incidents of violence... 17 civilians were injured, while over 100 paramilitary and police personnel also sustained injuries," he said.
Shortly after the press conference, two people were reported killed in Chadoora area of Budgam district and Barsoo in Ganderbal district in firing by security forces, taking the death toll to eight.
The CEO said a decision on repoll in violence-hit areas will be taken after examining the diaries of presiding officers.
"I cannot tell you exactly how many polling stations will go to repolls...it can be anywhere between 50 and 100. It is a wild guess," he said.
While two people each were killed Pakherpora in Chrar-e-Sharief and Beerwah areas of Budgam district, two more deaths were reported from Chadoora area of the same district and another in Magam town, which is known as the gateway to Gulmarg. Another person was killed in Barsoo in Ganderbal district.
Almost 70 per cent of the polling booths in Budgam district were abandoned by the polling staff due to the spate of violent protests in several areas, officials said.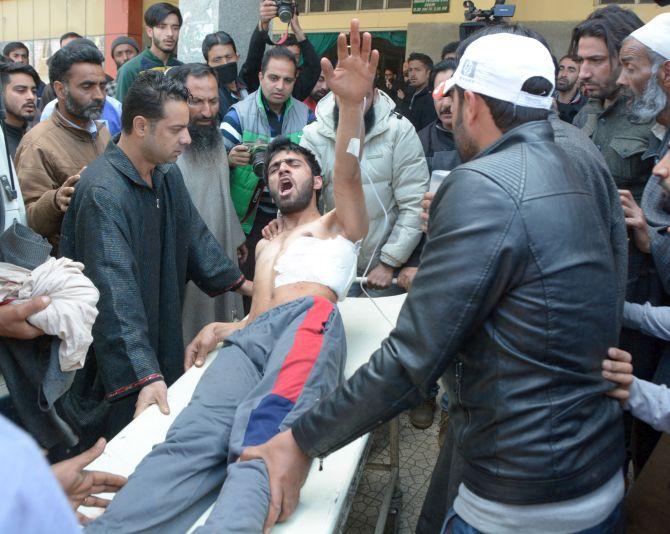 IMAGE: An injured youth is being taken to hospital in Srinagar.
Army was called out to help security forces quell a rampaging mob which threw stones and hurled petrol bombs to set a polling booth ablaze in the Ganderbal district of the constituency.
Hundreds of protestors stormed a polling station at Pakherpora in Chrar-e-Sharief area of Budgam district and ransacked a building housing a polling booth, officials said, adding the security forces fired several warning rounds to disperse the mob, which did not relent.
Six persons were injured in the firing, of whom two, 20- year-old Mohammad Abbas and 15-year-old Faizaan Ahmad Rather, succumbed to bullet wounds.
In another incident, security forces opened fire to quell a stone-pelting mob in Ratxuna Beerwah area, leaving one Nissar Ahmed dead. At the Daulatpura in Chadoora assembly segment of Budgam district, one person, identified as Shabir Ahmed, was killed in firing by security personnel.
A youth, Adil Farooq, succumbed to multiple pellet injuries in the Magam town, about 20 kms from Srinagar. One Aqib Wani was shot dead as police opened fire on a crowd of protestors in the Beerwah area in the afternoon.
National Conference working president Omar Abdullah said in his 20 year political career he had never seen such a bad enviroment for elections.
"I am talking about having fought my first election in 1998 at the peak of militancy. Even then the enviroment for campaigning and voting was not as bad as it is today. That may itself tell you just how mismanaged this state is under Mehbooba Mufti," he said.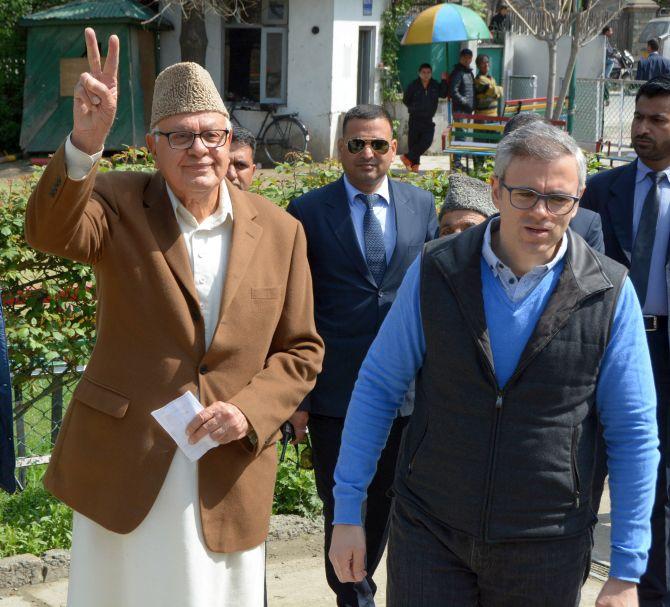 IMAGE: National Conference chief Farooq Abdullah with his son Omar Abdullah after casting their vote.
"Have contested six elections over 20 years and have never seen his kind of violence in elections in Kashmir.
"5PM- polling booths close for an election that will be remembered for all the wrong reasons," Omar tweeted.
Chief Minister Mehbooba Mufti expressed distress over the civilian killings, saying she was pained that most of them were teenagers who were yet to understand the intricacies of the issues.
"I am distressed to know that many of those killed were young or teenagers who were yet to understand the intricacies of the issues," Mehbooba said in an official statement.
The chief minister said she has consistently held that peaceful means and not violence are the only way ahead in getting state out of the present difficulties.
Meanwhile, separatists have called for a two-day shutdown against the killing of civilians in firing by security forces, saying it was the only way for them to express solidarity with the families of those killed and the cause for which they laid down their lives.
IMAGE: Kashmiri women stand in a queue to cast their votes.
"We know hartal would not affect government policy towards us but it is the only option to express our collective grief," separatist leaders Mirwaiz Umar Farooq, Syed Ali Shah Geelani and Mohammad Yasin Malik said in a joint statement.
Internet services will remain suspended in the entire Kashmir valley till conclusion of the by-poll for Anantnag Lok Sabha seat on April 12, official sources said.
Internet services in three districts of Srinagar, Budgam and Ganderbal, which the Srinagar Lok Sabha constituency straddles, were shut down last midnight as a precautionary measure to prevent floating of rumours by anti-national elements.
There were reports that Pakistan-based groups were engaged in spreading "disinformation" on the eve of polls, official sources said.
Though the ban was to be lifted immediately after Sunday's polling, the authorities decided to extend it across all districts of the valley till conclusion of the polling in Anantnag.