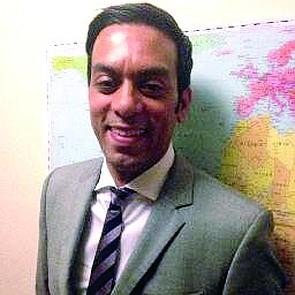 On November 2, 2010, in his acceptance speech on being elected Governor of New York, Andrew Cuomo declared, 'We got such fantastic help from our brothers and sisters in the labour movement,' and then rattled off half-a-dozen names, including that of labour union activist Neal Kwatra.
Last month, the media-shy Corona, Queens-born and New Jersey-raised Kwatra, 39, was hired by Cuomo as his chief strategist for his re-election campaign.
Kwatra's enviable network of contacts in labor groups and government would be indispensable not only for a decisive gubernatorial victory, but possible for a Presidential run in 2016 where Cuomo would be up against Hillary Clinton, Vice President Joe Biden, and Maryland Governor Martin O'Malley among others vying for the Democratic nomination.
Most recently, till he founded his own company -- Metropolitan Public Strategies -- last year, Kwatra was chief of staff for New York Attorney General Eric Schneiderman.
From 1998 through 2007, working through the ranks he became the influential deputy director of the Department of Strategic Affairs at Unite Here, followed by a stint as political director of the New York Hotel and Motel Trades Council.
As he has done since the time he was with Unite Here, Kwatra, who has been interviewed and profiled only by Crain's New York Business magazine, despite persistent efforts, shied away from talking to rediff.com, saying he was prohibited from discussing his new position and his specific responsibilities, but promising to talk after the election.
When he was hired by Schneiderman in January 2011, Crain's headlined its report, saying, 'Union hotshot to run new AG's office: New York Attorney General Eric Schneiderman taps the Hotel Trade Council's political cloutmeister, Neal Kwatra, as his chief of staff.'
It said that 'in less than three years as political director at the hotel union, Kwatra, helped turn its 30,000 members into some of the most sought-after ground troops in any campaign in the state.'
Crain's said the 'hotel union had played a key role in then Mayor Michael Bloomberg's re-election last year (2010), helped numerous candidates win City Council races and poured resources into Schneiderman's effort to replace Andrew Cuomo as attorney general.'
It also noted that 'Kwatra was offered a job in the Bloomberg administration last year, but decided to stay with the union. Joining Schneiderman's team gives Kwatra a chance to work alongside an elected official who ran to the left of four rivals to win a Democratic primary, someone closer to his roots in the political world.'
Crain's later reported how Kwatra had been indispensable to win a stalemate with California Attorney General Kamala Devi Harris regarding a mortgage settlement she was drafting with some of the biggest banks.
At the time Crain's quoted Kwatra as saying, 'Everything in life is organising, building relationships, understanding what motivates people and figuring out the power dynamics.'

Kwatra was always a social activist, particularly during his college days at RutgersUniversity in the mid 1990s, from where he received his bachelor's degree in political science and journalism.

It was shortly after college that he got hooked on the labor movement while campaigning with janitors and riverboat casino workers in St Louis.
He brought to New York from HTC's parent union, Unite Here, where he was instrumental in orchestrating card-check deals that more easily paved the way for unionization drives at dozens of hotels across the country.
In July 2008, Crain's reported how after Kwatra arrived in New York, it didn't take him long to get chummy with the power brokers in city politics. It said, at a party of labour movement leaders, attorney Kevin Finnegan expected to introduce Kwatra around the room.
'Then a number of people came up to Neal to give him bear hugs,' Crains quoted.

Finnegan, a partner at the law firm Levy Ratner, which represents the union and that 'I was dumbfounded by how quickly he had developed relationships.'
Kwatra has been quoted as saying that 'being a person of color makes you more aware of the inequities in society,' and that family vacations in India and seeing the gross inequities there was what has inspired him to be a social activist.
According to him, his parents, had hoped that their son would become a doctor or lawyer, and weren't keen on his career choice at all. His father, a civil engineer for the Port Authority of New York and New Jersey, and his mother, who also worked outside the home, he told Crain's, had once compared his devotion to the labour movement to joining a cult.
But that was then. Now his mother Pam Kwatra, also a longtime community activist, and an Ellis Island Medal of Honor recipient, cannot stop mentioning how proud she is of her only child, and while apologetically saying she cannot convince her son to talk to the media, religiously sends rediff.com all of the articles written about him or documenting his activism.
Delhi born Pam Kwatra, whose parents were born in Jammu and Kashmir, but moved to Delhi where they settled, told rediff.com, "We are so very proud of Neal, especially for the kind of human being he is -- because ultimately, that's what matters in life."