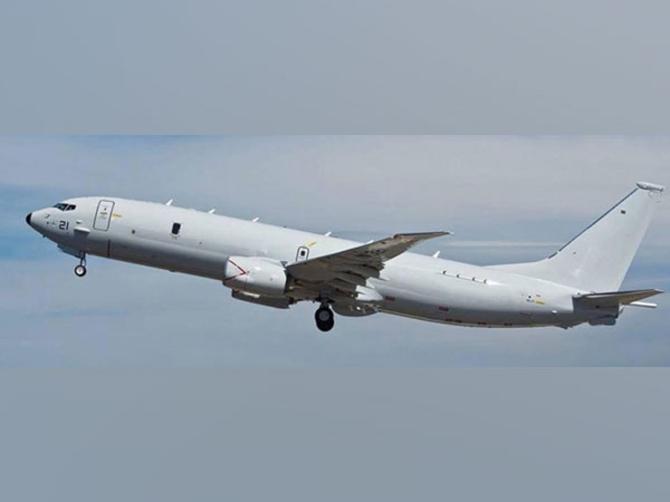 In an unfolding drama in the stormy waters of the Indian Ocean, the Indian Navy has mobilised to the rescue of a Chinese fishing boat that has sunk in bad weather in the southern Indian Ocean.
So far, despite the best efforts of multiple rescue agencies, none of the 39 crew members and fishermen on board have been sighted or rescued.
The Chinese fishing boat sank approximately 900 nautical miles (1,650 kilometres) from the Indian coast. That places it in the latitude of Diego Garcia and the Seychelles.
Given the long distance from the closest land, the Indian Navy has deployed its state-of-the-art Boeing P-8I Poseidon long range maritime reconnaissance aircraft, which have the endurance to reach the location of the incident.
'In a swift humanitarian action on May 17, Indian Navy deployed its air maritime reconnaissance assets in the Southern Indian Ocean Region approximately 900 nautical miles from India, in response to sinking of a Chinese fishing vessel Lu Peng Yuan Yu 028 with 39 crew onboard,' the ministry of defence stated on Thursday, May 18, 2023.
'The crew includes nationals from China, Indonesia and Philippines. P-8I aircraft have carried out multiple and extensive searches despite adverse weather and located multiple objects possibly belonging to the sunken vessel,' the ministry added.
The Indian Navy operates its fleet of 12 P-8I aircraft from the INS Rajali naval air base, located at Arakkonam, near Chennai.
From here, the P-8I aircraft are flying 900 nautical miles to the scene of the incident, searching the area for four hours, and then flying back to the base.
However, naval sources say that the location and rescue of any fishermen has so far been prevented by severe weather conditions.
Responding to the incident, the Indian Navy said: 'As an immediate response, search and rescue (SAR) equipment was deployed at the scene by the Indian aircraft on request of People's Liberation Army (Navy) ships, closing in on the area.'
'In a display of India's obligations as a credible and responsible partner for ensuring safety at sea, the Indian Navy units also coordinated SAR efforts with other units in the area and guided the PLA(N) warships transiting to the scene of the incident.'
'The Indian Navy continues to remain deployed to provide all possible assistance to the ongoing SAR efforts.'