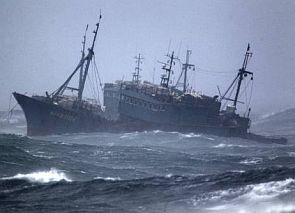 Seventy-four people are missing after three Chinese fishing boats sank in the South China Sea due to stormy weather caused by Typhoon Wutip, maritime authorities said on Monday.
The boats, two from China's southern Guangdong Province, were lost on Sunday as they attempted to navigate gales near the disputed islands called Xisha by China and Paracel by Vietnam Islands about 330 km from China's island province of Hainan, Chinese officials in Hainan said.
So far 14 people have been rescued, officials said, adding that search and rescue operations are continuing, state-run Xinhua news agency reported.
Altogether five fishing boats with a total of 171 people aboard had been caught in the typhoon, the 21st of the season.

Chinese Ministry of Transport has sent an aircraft for the rescue operation.
Meanwhile, the government mobilised local island residents as well as nearby ships to participate in the search and rescue efforts.
Scores of other ships are on their way to the scene.

However, the rescue operations had been hampered by strong gales and high waves on the sea, according to the rescue centre.
China's maritime authority on Sunday upgraded its wave warning from yellow to orange, the second-highest of a four-tier color-coded weather warning system, as the typhoon approached land.
The National Marine Environmental Forecasting Centre warned of storm tides from Sunday to Monday in Guangdong, Hainan and Guangxi. Wutip is expected to make landfall on Vietnam's central coast on Tuesday.