Four persons, including a 53-year-old bedridden paralysed woman, died due to flooding after heavy rains in Nagpur, the police said on Saturday.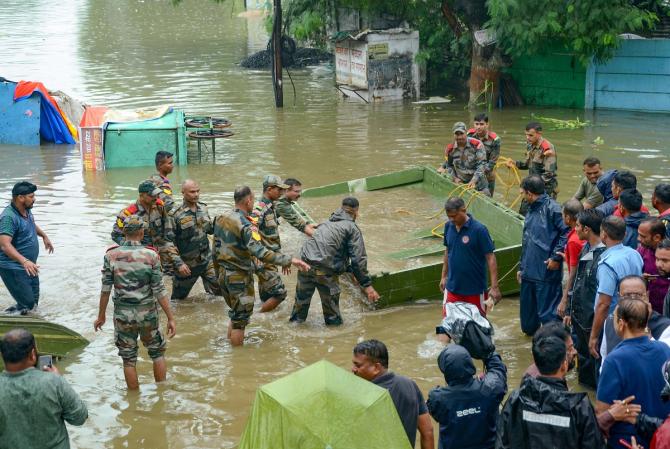 Maharashtra deputy Chief Minister Devendra Fadnavis late in the evening announced the kin of the deceased would get Rs 4 lakh each as compensation.
In the first case, flood water entered the house of Sandhya Dhore and her mother Sayabai Dhore (72) in Surendragadh, leading to relatives managing to rescue the latter while the former was left behind as she could not be moved from her bed, an official said.
"Sandhya Dhore drowned after the water level in the room increased. A rescue team found her body this morning," he said.
In Gittikhadan, 70-year-old Meerabai Kappuswamy, who lived alone, died after water entered her home at around 2am, he said, adding the body was found at 6am by relatives.
On Saturday evening, an unidentified body was found in a 'nullah' (major drain) near Panchsheel Square under Dhantoli police station limits, the official informed.
The fourth death was of tea vendor Sanjay Shankar Gadegaokar (52), a resident of Ayodhya Nagar, who drowned in a flooded pit on the premises of Government Medical College and Hospital at 3 am.
"He had come to visit a kin at GMCH. An accidental death case has been registered by Ajni police," the official informed.
Heavy rains over a span of few hours flooded many parts of Nagpur city, following which more than 400 people, including 70 students from a school for the speech and hearing-impaired, were rescued.
Water gushed into homes and residential areas and roads looked like rivers after the city received about 90 mm of rain between 2 am and 4 am on Saturday.
The weather department has issued an orange alert in the district for the next 24 hours.
The administration has declared a holiday for schools and colleges as a precautionary measure.