It wasn't a surprise that Anna Chanappa Hulgunde died. Most would after almost a month of starvation.
Not that the 35-year-old Hulgunde did not have food. He did. But a desperate man seeks desperate measures
Hulgunde's story is about injustice and the apathy of babudom. Most in his place would have quietly accepted defeat. But the Dalit's conscience did not let him lay still. When all his pleas fell on deaf ears, Hulgunde, his wife and two brothers went on a fast-unto-death.
From May 31 onwards, except for water, Hulgunde's family ingested little. But even this extreme measure did not move the heart of the officialdom. The wheels of administration started moving only when Hulgunde stopped breathing.
But what made Hulgunde and his family resort to such a step? Money.
Hulgunde, who was from Parsi village in Latur district, had rustled up 190 workers -- including his wife and five brothers -- for a construction company called Ankit Constructions in 2000 as part of a labour contract. The company asked Hulgunde and his workers to construct three petrol pumps in the Wada taluka of Thane district.
The Hulgundes are from a backward nomadic tribe called Vadar Samaj known for their skill as stone cutters.
But when the time came for payments, the Hulgundes were left in the lurch by the owners of Ankit Constructions, Mahendra Lalan and his son Ankit Lalan, after whom the company is named.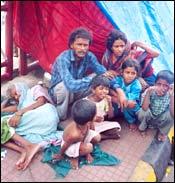 Anna's brother, Raju Chanappa Hulgunde, showed rediff.com documents that proved that Ankit Constructions had promised to pay Rs 901, 260 to the family for their efforts. The company still owned Rs 475,000 after paying Rs 426,260 to the family.
"We had to arrange payments for workers after selling the ornaments of our wives and taking money from relatives. We even sold our Latur house for 150,000 thinking that the company will pay us later," Raju said.
"We also didn't have any other option. If we had stopped work after the first project itself, he could have withheld all our payment. So we decided to complete all his work, by arranging payment of other workers from own pocket in the hope that after the completion of the work we would get our money and pay back our creditors."
But after the completion of work, Lalan kept delaying the payment giving one excuse or the other.
"My wife Shanta had asked Mahendra Lalan for quick payment because our family was under pressure from creditors. But Lalan abused her and slapped her in front of all the workers. She was so disturbed with that incident that she committed suicide by setting herself on fire the same day," alleged Raju.
"When Mahendra Lalan came to know about my wife's suicide, he came to us and warned of dire consequences if we told the police the real cause of her death," he claimed. "We were not in position to face him and told the police that Shanta died in a stove accident. After our statement Lalan promised to give us our money soon."
But Lalan soon changed tack and refused to pay the money, said Raju.
When rediff.com contacted the Thane Superintendent of Police Ramrao Pawar with Raju's version, he said, "At that time we had investigated the case and there was noting suspicious. We had closed the case then. There is no need to investigate it further just because of some allegations."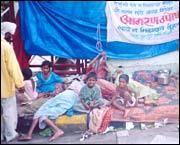 Fed up of official apathy and Lalan's excuses the Hulgunde family went to Matoshree (the Bandra residence of Shiv Sena Chief Bal Thackarey) "We got assurances from party leaders there, but nothing happened. We could not meet Thackeray too," Raju said. "We were left with no other option but to go on a hunger strike to put pressure on Lalan."
Before going on the fast-unto-death near the collector's office in Thane, the Hulgundes had gone on a hunger strike thrice -- in Wada, Shahpur and Jawahar. "But nothing came out of it," a dejected Raju said. "So we decided on a fast-unto-death before the statue of Babasaheb Ambedkar (near the collector's office)"
So Anna Chanappa Hulgunde, his wife Rukmin, and five brothers, including Raju and Vitthal, sat on a hunger strike on May 31.
Anna's 80-year-old mother, Vithal's wife Sangeetha, her sister, Anna's sister Shulba also joined their protest. Quite naturally the children, who had nowhere to go, also joined in. But they did not participate in the hunger strike and were provided food by some social workers.
On Saturday night Sangeeta, who was pregnant, was admitted to a hospital in Kalwa, where she delivered a healthy baby girl. "We don't have any money to buy the little one anything," said Raju.
But it was a black Monday for the family when Anna could hold on no longer and passed away.
The adminstraadministration woke up a little from its stupor and Maharashtra Chief Minister Sushilkumar Shinde announced a compensation of Rs 200,000 for the family. "I still haven't got it," said Raju.
Government officials were still trying to figure out whether Anna's death was due to his fast-unto-death. When rediff.com approached Thane Collector I S Chahal and Deputy Collector Bharat Shitole both said they were busy and declined to comment on the issue.
The police, meanwhile, have finally arrested Mahendra Lalan and his son Ankit Lalan. "We have registered a case under section 306 (Abetment of suicide) and arrested them," Joint Commissioner of Police R T Rathod said.
But Raju is not satisfied and the hunger strike continues. "It will end only after my family gets justice."

Photographs: Vijay Singh