A court in Ghazipur on Saturday sentenced gangster-politician Mukhtar Ansari and his brother and Bahujan Samaj Party MP Afzal Ansari to imprisonment for 10 years and four years, respectively in a 2007 Gangsters Act case.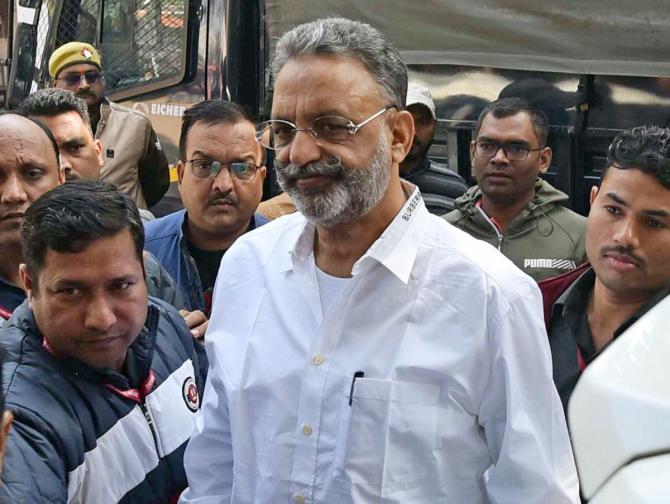 "The court of Additional Sessions Judge/First MP-MLA Court Durgesh also imposed a fine of Rs 5 lakh on Mukhtar and Rs 1 lakh on Afzal," ADGC Criminal Neeraj Srivastava said.
Afzal, the BSP MP from Ghazipur parliamentary constituency, was produced in the court, while his brother Mukhtar attended the proceedings via video conferencing.
Afzal was later taken into custody and sent to jail.
The verdict could lead to Afzal losing his Lok Sabha membership.
According to the Representation of the People Act, any member will be disqualified if convicted and sentenced to imprisonment for two years or more.
Congress MP Rahul Gandhi (from Wayanad in Kerala) and UP legislators, including Azam Khan (Rampur), his son Abdullah Azam (Suar) and BJP's Vikram Saini (Khatauli-Muzaffarnagar), had recently lost their memberships under the provisions of the same Act.
A statement issued by Special Director General (Law and Order) Prashant Kumar said, "Several cases against mafia and head of IS(Inter State)-191 gang Mukhtar Ansari and his brother Afzal Ansari are being heard in various courts of the state. In one of these cases, due to effective prosecution, the duo was sentenced on Saturday."
On 22 November 2007, a case was filed under the Gangsters Act against the Ansari brothers at the Muhammadabad Kotwali police station.
The duo was booked under the UP Gangsters Act in connection with the murder of the then MLA from Ghazipur, Krishnanad Rai on November 29, 2005 along with the kidnapping and murder of Varanasi-based trader Nand Kishore Rungta in 1997.
On 23 September 2022, prima facie charges were framed against the two.
After hearing the arguments of both the sides, the court reserved its decision which was pronounced Saturday.
After the court's verdict, Rai's nephew Anand Rai expressed his gratitude to the court as well as Chief Minister Yogi Adityanath.
He said today, (Yogi) has made Uttar Pradesh fear-free, whereas in the previous governments of the opposition, goons used to act like mafia.
Mukhtar is presently lodged in Banda jail. He had been an MLA for five consecutive terms from Mau Sadar assembly seat in neighbouring Mau district of Uttar Pradesh.
The gangster-politician did not contest the 2022 assembly elections and his seat was won by his son Abbas Ansari from the Suheldev Bharatiya Samaj Party (SBSP).