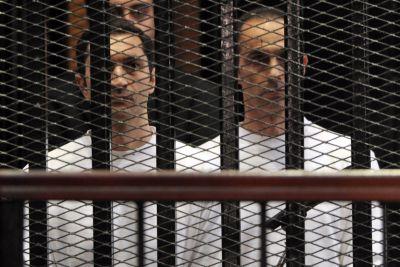 Ousted Egyptian dictator Hosni Mubarak's two sons and his last Prime Minister Ahmed Shafiq were on Thursday acquitted of corruption charges by a criminal court in Cairo.
Alaa and Gamal Mubarak along with former prime minister and ex-presidential candidate Shafiq were acquitted by the court of embezzling public funds in the Pilots' Association for Land Development trial.
Mubarak's former aviation minister Shafiq headed the Pilots' Association for Land Development in 1992.
Shafiq was accused by the general prosecution of having seized 40,000 metres of land belonging to fishing farms and illegally allocating them to the association before reselling them to Mubarak's sons at lower than market price.
The criminal court also acquitted former air force generals Nabil Shoukry and Mohamed Reda, both former association officials who faced charges in the same trial.
Shafiq, who was tried in absentia, currently resides in Dubai. He left Egypt after his defeat in the presidential election runoff to the Muslim Brotherhood's Mohammed Morsi in 2012.
The former air force commander is facing another corruption trial. Alaa and Gamal Mubarak also face additional trials for corruption-related crimes.
Shafiq had earlier said he might return to Egypt if he is acquitted after having left for the UAE. Analysts expect he will even run for presidency the next year.
The military-installed government in Egypt have plans for holding parliamentary and presidential elections in 2014 following Morsi's ouster in a military coup on July 3.
Morsi is on trial for inciting murder while awaiting a separate trial on charges of conspiring with foreign militant groups like Hamas and Hezbollah to carry out terror acts.
Mubarak was sentenced to life in 2012 for failing to stop the killing of protesters during the 2011 popular uprising that ended his nearly three decades-long rule. He was acquitted on appeal and is now being retried.
Image: Alaa and Gamal Mubarak stand in a cage during their trial at the police academy in Cairo, in August, 2011.
Photograph: Reuters