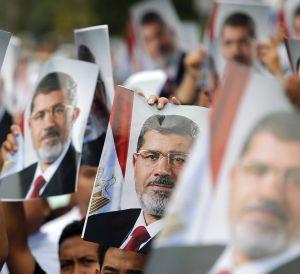 Ousted Egyptian President Mohammed Morsi on Monday termed as "illegal" his trial on charges of inciting murder and violence during his year-long rule and demanded that leaders of the "military coup" should be tried instead of him.
"I am Dr Mohammed Morsi, the president of the republic," a defiant Morsi told a court where he was produced for the first time since the army deposed him and put him under arrest in July.
"This court is illegal," the 62-year-old Muslim Brotherhood leader said, clad in a suit rather than the customary white detention clothes.
He demanded that the military leaders, who staged the coup, face trial.
"This was a military coup. The leaders of the coup should be tried. A coup is treason and a crime," Morsi said.
After Morsi's remarks and his refusal to wear a uniform, the judge adjourned the high-profile trial until January 8 to allow prosecution and defence to examine documents.
During the trial, Morsi asserted that he is the "legitimate president of the country," and appealed to "Egypt's judiciary not to provide cover for the criminal coup d'etat," in reference to his ouster on July 3.
Security was beefed up around the trial's venue to prevent any untoward incident as supporters of the leader protested outside the court and elsewhere.
At least 10 people died in the clashes at the Ittihadiya presidential palace in December 2012 which broke out after pro-Morsi protesters attacked a sit-in held by opponents of a presidential decree which had granted the Islamist leader expanded powers.
If found guilty, Morsi and 14 others could face lifetime imprisonment or the death penalty.
The deposed Islamist president was brought from a secret military facility where he has been detained for the past four months.
He was flown down to the venue of the trial, a police academy in an eastern district here, by a helicopter.
In a last-minute change yesterday, authorities changed the trial's venue at Tora prison on the other side of Cairo, a move apparently aimed at preventing mass rallies planned by the Brotherhood.
Morsi said he was brought to the court "by force" and asked the judges to allow him to practice his powers as president.
His co-defendants were brought to court in armoured vehicles from south Cairo's Tora prison. Seven of the defendants are still at large and will be tried in absentia.
Image: Supporters of Mohammed Morsi raise slogans in Cairo
Photograph: Reuters