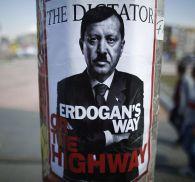 Egypt has taken strong objection to Turkish Prime Minister Recep Tayyip Erdogan's comments that "Rabaa sign" adopted by the supporters of deposed President Mohamed Morsi is a symbol of denouncing injustice.
Islamist supporters of Mursi have adopted the "Rabaa sign" -- four-finger salute – during recent protests as a symbol of defiance to the interim government.
The "narrow" partisan vision of Erdogan is driving Egypt into a path it wants to avoid in order to preserve the historic relations between the two countries, Presidential spokesperson Ehab Badawy said.
"Egypt is re-evaluating its relationship with Turkey in light of such statements," he said. "They came when we were considering the return of the Egyptian ambassador to Ankara."
At a meeting of his Turkish Justice and Development Party on Sunday, Erdogan said the "Rabaa sign" is not only a symbol for the just cause of the Egyptian people, but also a sign of denouncing injustice and persecution in all parts of the world.
In a statement, Egypt's interim Cabinet condemned Erdogan's remarks, saying Cairo rejects any foreign interference in Egyptian affairs.
These "unacceptable" remarks are considered an assault on the Egyptian people who took to the streets on June 30, the said the statement.
Meanwhile, Foreign Ministry spokesperson Badr Abdul Ati said all options were open in response to the Turkish "violations," which are considered to be an interference into Egypt's internal affairs.
He said the foreign ministry is coordinating with other state institutions to come up with an appropriate response.