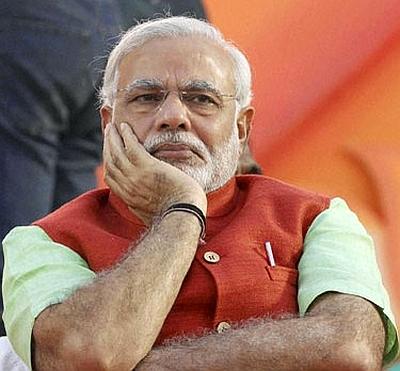 The Congress on Thursday came down hard on Union ministers for making "boastful and jingoistic" statements on the Army operation in Myanmar and asked Prime Minister Narendra Modi to give them "mentoring and counselling".
The defence minister has "foot-in-mouth" disease and is in the "habit" of making "irresponsible" statements, said party spokesman Anand Sharma who also faulted the "56-inch-chest" remark by another Union minister.
-- Manohar Parrikar and his big mouth
"There should be sobriety and maturity. Jingoism and boastful claims are not going to help the operations of India's Special Forces," he said.
Sharma, who has been a senior minister in the United Progressive Alliance administration, also advised National Security Advisor to work and speak with restraint and said that his style of functioning raised serious questions of propriety.
"I would request the prime minister to give them mentoring and counselling... PM should restrain his ministers so there is no repeat," he said
Sharma said the prime minister should have drawn lesson from Nepal experience.
"During the quake relief operations, there was a publicity and propaganda overkill which caused us embarrassment," he said.
The Congress spokesman's refrain was that in matters of operations by Special Forces and those concerning India's neighbours, there should be sobriety and maturity in the statements and actions of Union ministers and others concerned.
"Those who should be taking care of national security are busy having sponsored stories in the newspapers and photographs about what they have been doing in Manipur. What they propose to do in the coming days," he told reporters, in an apparent attack on the NSA.
Sharma's attack came on a day Defence Minister Manohar Parrkiar attributed the Myanmar operation to "change in mindset".
Taking a dig at Pakistan, the minister said those who "fear India's new posture" have already started reacting.
"If the thinking pattern changes, lot of things change. You have seen for the last 2-3 days. A simple action against insurgents has changed the mindset of the full security scenario in the country," Parrikar said addressing a seminar in New Delhi.
Indian Army had undertaken a successful cross-border strike with the knowledge of Myanmarese authorities killing at least 38 insurgents who were part of the groups believed to be responsible for the ambush on June 4 that left 18 soldiers dead.