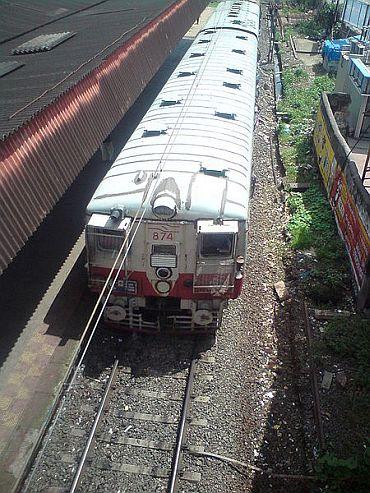 Train services on Central and Western lines were badly affected on Monday as motormen demanding a wage hike went on an indefinite hunger strike, causing lot of inconvenience to commuters in the evening rush hour.
No train is running on Western line from 6.40 pm, railway officials said.
"Trains from Churchgate station are not running as motormen have stopped work. Commuters can travel by long distance trains from Mumbai Central as a few coaches have been dedicated for local passengers," Western Railway PRO C David told PTI in Mumbai.
Alternative arrangements have been made with the help of BEST buses. Commuters can travel in BEST buses, which are plying from outside Churchgate station, David said.
The Central line saw over 40 trains cancelled since morning and commuters were travelling in long-distance trains, railway officials said.
"Trains on Central line are running late by 10-15 minutes. Central Railways are running 20 special services by using conventional trains with electric or diesel locomotives and also 4 EMU rakes with electric locomotives," Central Railway PRO A K Jain said.
"Suburban passengers were also allowed to travel in Mail/Express trains by giving them halts at Dadar, Thane, and Kalyan," Jain said.
Motormen of Central and Western Railways are demanding rise in pay scales and allowance.

Throughout the day, 18 motormen reported sick, out of which 15 were declared fit and discharged from hospital.
Railway officials said the state government has provided full support by running special buses from important stations for the convenience of passengers and bandobast at stations.


Meanwhile, the All India Railwaymen Federation has appealed to the striking motormen to postpone their agitation in view of the ongoing negotiations.

Federation General Secretary Shiv Gopal Mishra said, "Railways had never declined their demands. Keeping this in view, the motormen should defer their agitation for the time being".

In a related development, a press release issued by the railway ministry on Monday night said: "Motormen are demanding higher pay than recommended by the 6th Central Pay Commission and additional allowances, which are not in the recommendations of the Pay Commission".

It further said, "Some of their demands regarding National Holiday and Night Duty Allowances have already been met. Railways have 14 lakh employees on their roll and traditionally the grievances of all sections of staff are resolved through consultation with their recognised Federations. The agitation of the motormen is not supported by any of the recognised federations, unions and associations of the Railways."

Railway Minister Mamata Banerjee has met the representatives of agitating motormen and it has been explained to them that their genuine grievances are being looked into, the statement added.
Apart from this, the grievances of the motormen are also before the Regional Labour Commissioner, Mumbai, in which a conciliation meeting between the management and the employees was held on April 29, it said.

The Regional Labour Commissioner, the release added, had advised the concerned employees not to resort to protest w.e.f. May 3, 2010 and had fixed the next reconciliation meeting on May 12, 2010.

"Any precipitative action taken during the conciliatory proceedings is unlawful under the Industrial Disputes Act," it said.

The statement said, "Despite appropriate action by railways as explained above, motormen have resorted to unlawful action resulting in cancellation of many suburban trains thus putting the commuters to lot of troubles."
General managers of Central and Western Railways have been asked to take all necessary steps to ensure that appropriate alternate arrangements are made so as to cause minimum inconvenience to commuters.

The central government is also being kept fully informed in the matter.

Stranded because of the strike? Share your experiences, send us your photos and videos to us at citizen.reporter@rediffmail.com