The southwest monsoon season concluded on Saturday with India receiving 'below-average' cumulative rainfall -- 820 mm compared to the long-period average of 868.6 mm -- in an El Nino year.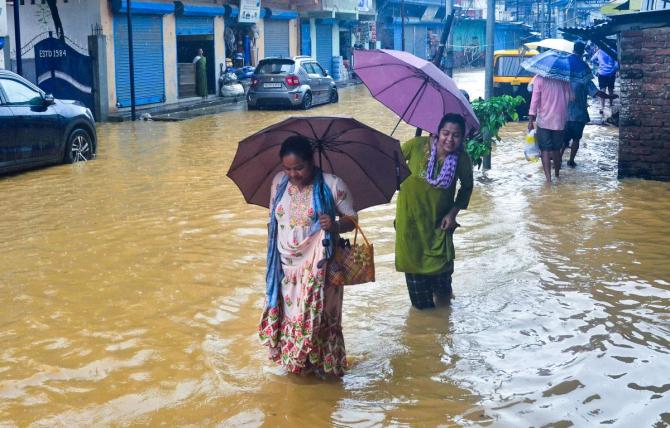 Rainfall between 94 per cent and 106 per cent of the long-period average (LPA) is considered normal.
However, normal cumulative rainfall over the country during the monsoon season doesn't mean even spatial and temporal spread of precipitation.
Rainfall between 96 per cent and 104 per cent of the long-period average (LPA) is considered normal.
El Nino conditions -- warming of waters in the Pacific Ocean near South America -- are associated with weaker monsoon winds and drier conditions in India.
MJO is a large-scale atmospheric disturbance originating in tropical Africa and travelling eastward, typically lasting 30 to 60 days. It is known for increasing convection in the Bay of Bengal and the Arabian Sea.
The IOD is defined by the difference in the sea surface temperatures between the western parts of the Indian Ocean near Africa and the eastern parts of the ocean near Indonesia.
Addressing a press conference on Saturday, IMD Director General Mrutyunjay Mohapatra said the 2023 monsoon season concluded with 94.4 per cent cumulative rainfall, which is 'near normal', amid positive factors countering El Nino.
Normal rainfall is critical for India's agricultural landscape, with 52 per cent of the net cultivated area relying on it. Additionally, it plays a crucial role in replenishing reservoirs essential for drinking water and power generation throughout the country.
Rainfed agriculture contributes to approximately 40 per cent of the country's total food production, making it a vital contributor to India's food security and economic stability.
In a pre-monsoon briefing, the IMD had predicted a normal monsoon for India, albeit on the lower side of normal. It had, however, cautioned that El Nino might influence the latter half of the southwest monsoon.
However, normal cumulative rainfall over the country during the monsoon season also doesn't mean even spatial and temporal spread of precipitation.
The Indian monsoon refers to inherent fluctuations and changes that occur over time due to various natural factors. This is called natural variability.
Research, however, shows climate change is making the monsoon more variable. Increased variability means more extreme weather and dry spells.
The IMD chief said monthly rainfall across the country as a whole stood at 91 per cent of LPA in June, 113 per cent in July, 64 per cent in August, and 113 per cent in September.
"Out of the 36 meteorological subdivisions, three (constituting 9 per cent of the total area) received excess rainfall, 26 received normal rainfall (covering 73 per cent of the total area), and seven received deficient rainfall. The seven subdivisions with deficient rainfall are Nagaland, Manipur, Mizoram, and Tripura, Gangetic West Bengal, Jharkhand, Bihar, East UP, South Interior Karnataka, and Kerala," he said.
The IMD reported that east and northeast India recorded 1,115 mm of rainfall against a normal of 1,367.3 mm, which translates to an 18 per cent deficit.
Northwest India recorded 593 mm of rainfall compared to a long-period average of 587.6 mm. Central India, where agriculture predominantly relies on monsoon rains, recorded 981.7 mm against a normal of 978 mm. The South Peninsula experienced an eight per cent deficit.
Mohapatra highlighted two factors -- the Indian Ocean Dipole and Madden-Julian Oscillation -- that significantly influenced this year's monsoon season.
He cited MJO as the most important factor that countered the effect of El Nino on the monsoon season in India.
The IMD chief said the relationship between the El Nino-Southern Oscillation (ENSO) -- the entire El Nino and La Nina system -- and India's monsoon rainfall is not always straightforward.
While there is a notable connection between ENSO events and monsoon patterns, it does not consistently result in a one-to-one correspondence, he said.
"For example, there have been El Nino years when India received above-normal rainfall, and conversely, some La Nina years resulted in below-normal precipitation. It's crucial to understand that while there is a statistically significant association between ENSO and southwest monsoon rainfall, it is not the sole factor influencing monsoon rainfall over India. Other factors, such as the Indian Ocean Dipole (IOD), Eurasian snow cover, and various regional and global atmospheric patterns, can also come into play," Mohapatra explained.
'The year 2023 serves as an illustrative example of this complex interplay. In this El Nino year, India experienced below-average rainfall. However, the presence of the IOD during the monsoon's later phase offset this deficiency, bringing the rainfall anomaly within the standard deviation,' the IMD said in a statement released after the press conference.
Mohapatra said 15 low-pressure systems developed over India during the monsoon season against an average of 13, but their temporal distribution remained 'skewed'.
This year, India experienced a rainfall deficit of nine per cent in June but saw 13 per cent above-normal precipitation in July due to consecutive western disturbances over northwest India and a favourable phase of MJO.
With a 36 per cent rain deficit, August 2023 marked the driest month since 1901 and the hottest ever recorded in India, attributed to the strengthening of El Nino conditions. However, September brought 13 per cent excess rain due to multiple low-pressure systems and the positive phase of MJO.
An analysis by Climate Trends, an independent think tank, pointed out that the 'usual major contributors' to monsoon rainfall, including parts of south peninsula, and east and northeast India, experienced deficits throughout the season.
Kerala reported a rainfall deficiency as high as 36 per cent, followed by Jharkhand at 27 per cent, and Bihar at 24 per cent.
It said major contributions to the monsoon 2023 came from unusual regions of the country, such as West Rajasthan, which recorded 42 per cent excess rainfall, the Saurashtra and Kutch region in Gujarat reported 48 per cent excess rains, Himachal Pradesh had 19 per cent, and Telangana had 15 per cent.
It is worth noting that these excess rains were all the result of very heavy to extremely heavy rainfall events throughout the season.