The southwest monsoon has started on a weak note and this has delayed the sowing of kharif crops.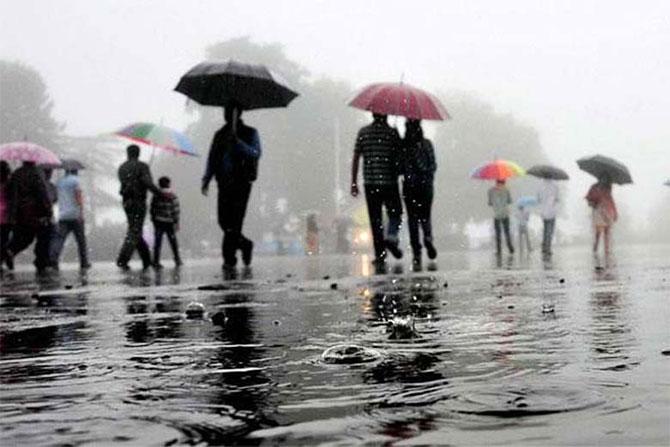 Though a cause for concern, the situation hasn't reached a stage where it warrants any panic response.
Moreover, according to meteorologists and industry players, monsoon rains will witness a revival in the coming few weeks.
There have been instances when rainfall was poor in June but that did not translate into it remaining weak for the entire season.
In 2019, the rainfall in June was around 32 per cent less than normal as the southwest monsoon arrived late, by seven days around June 8.
The progress of monsoon was also sluggish that year, just like this year, due to the impact of cyclone 'Vayu' in the Arabian Sea.
But, after the cyclone waned, rainfall revived in July that year and 2019 emerged as a normal monsoon year.
This year too, weathermen and scientists believe that a monsoon revival is on the cards that would wipe off most of the shortfall which has already started coming down in the last few days.
"The second pulse of southwest monsoon has started and it will extend right up to the middle of July, and we can expect good monsoon over hitherto untouched parts of central, west, and northern India by next week.
"Rains will cover the entire country by the middle of July and the deficit will also narrow down considerably, but for June yes, it will be below normal rains on the whole as has been predicted," D Sivananda Pai, scientist at the India Meteorological Department (IMD) and well-known authority on Indian monsoons, told Business Standard.
He advised: "One should panic or become unduly worried if there is something unknown or unpredictable".
"Sowing is delayed but then proper remedial strategies though agro-advisories are already in place," Pai said.
A more worrisome situation would have happened if rains went for a big break after sowing, which isn't the case so far, he said.
Rainfall in June until June 23 is around 33 per cent below normal.
Sowing of kharif crops until June 16 is marginally less than last year, with rice, pulses, and oilseeds being the biggest losers in terms of acreage.
Ravinder Balain, president-South Asia, Corteva Agriscience, said the delay in the progress of the southwest monsoon will have a small impact on demand for agrochemicals in the country, but it will be temporary.
"The agrochemical industry is well prepared to address issues caused by delayed and less rainfall. Today, we have climate-positive solutions with beneficial environmental profiles like hybrid seeds and bio-pesticides, helping address challenges like water scarcity and climate change, delivering safe, affordable, and reliable products," Balain told Business Standard.
Corteva is one of the world's premier agriculture companies.
Simon-Thorsten Wiebusch, country divisional head, Crop Science Division of Bayer for India, Bangladesh, and Sri Lanka, said that based on the recent predictions of the IMD, the company remains hopeful that "we will have good (monsoon) coverage across the country swiftly".
"As a company, Bayer is fully prepared with its entire portfolio of products, solutions, and advisory to ensure immediate access to any solution that our farmers may require through all its channels for a successful kharif season," said Wiebusch.
But, not all are extremely positive. Atul Garg, managing director, GRM Overseas, one of the leading rice exporters in the country, said the severity of El Niño holds the key for this year.
"Paddy cultivation requires a lot of water supply. The canal network is good in the states like Punjab and Haryana.
"Therefore, water shortage due to deficient rainfall won't affect paddy sowing in these regions.
"However, it's a serious concern for paddy growers in other states. But, as a revival in monsoon is expected in last week of June, we can expect a turnaround in paddy sowing," Garg said.
Rahul Chauhan, commodity analyst at iGrain India said the rains are delayed, farmers may go for short-duration crops and crops consuming less water like pulses and grains like maize, jowar, and bajra.
He said overall oilseeds acreage could remain less this year, and paddy and sugarcane which consume more water might get impacted.