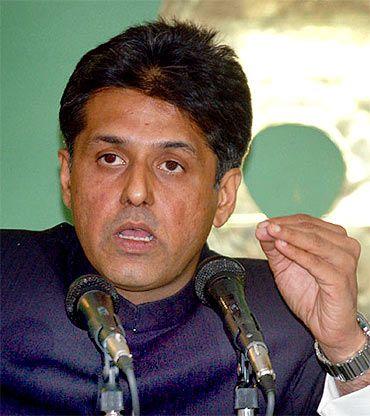 As politics played out over Uttarakhand floods, Congress on Sunday targeted Gujarat Chief Minister Narendra Modi saying he wants to become a "Rambo", dismissing reports he had helped in evacuation of 15,000 stranded people from Uttarakhand in two days.
Accusing Modi of milking the tragedy in Uttarakhand for political reasons, Congress leader and I&B minister Manish Tewari said that after making a "tourist detour" via the deluge affected state to reach Pathankot some people were tom-tomming "myths" they had rescued thousands of people.
The Bharatiya Janata Party, however, rejected the Congress assessment with its leader Mukhtar Abbas Naqvi saying it had the habit of faulting opposition leaders when they tried to do their bit at times of national crisis.
All the elements of national power put together had on Saturday evacuated 10,000 people and in all till yesterday the government had been successful in evacuating 17,000 people, Tewari told mediapersons.
Modi was in Pathankot on Sunday to address a scheduled BJP rally. "Now in all this, if somebody wants to become a Rambo and claims that he alone in a span of two days during a trip of disaster tourism brought out 15,000 people, I am afraid for the lack of a better word, it just reflects rank opportunism and sheer desperation to try and politicise and even milk a tragedy for political reasons," he said.
Tewari said the country should really think about the mindset behind such politics.
"It is indeed unfortunate that when a part of India is trying to grapple with a natural disaster, there are some people who are absulutely unabashed in politicising it. They had to go to Pathankot so they make a tourist detour via Uttarakhand and then started claiming, that solo, they were able to resuce 15,000 people," Tewari said in an apparent reference to Modi.
The I&B minister was referring to media reports which said Modi on his trip to Uttarakhand had in a Rambo act with the help of a team of his officials managed to evacuate 15,000 stranded Gujarati pilgrims from the hill state.
Congress's communication department in-charge Ajay Maken said it is surprising to see Modi, to have "played the role of a Rambo" and thereby saving 15,000 lives in a day. "This is not a time for politicising a disaster and least for a political credit taking exercise."
Maken's fellow All India Congress Committee General Secretary Digvijay Singh said. `"Modi is using media to push his own interests. Modi is taking credit for people already evacuated by administration and army," he said.