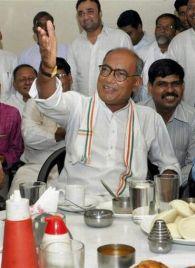 All India Congress Committee General Secretary Digvijay Singh's son Jaivardhan formally joined Congress on Wednesday amid indications that he might contest upcoming Madhya Pradesh Assembly elections from Raghogarh constituency, which has been nurtured by his father over a period of time.
Jaivardhan, 27, an alumnus of Doon school, who did his graduation from SRCC in DelhiUniversity, and MBA in rural development at America's ColumbiaUniversity, became member of Congress by signing a membership form at a function held in Guna district.
Jaivardhan's father and former chief minister Digvijay Singh is the 13th Raja of the royal Raghogarh family.
When asked if Jaivardhan would be fielded from the constituency, Digvijay replied that "the party's election committee will take a decision on this".
Digvijay began his political career from Raghogarh by becoming president of the municipal committee in 1971 and then as Congress MLA in 1977.
The senior Congress leader had said that he would contest Lok Sabha elections in 2014 if the party asked him to do so.
Speculations are rife that Jaivardhan, who had conducted a six-day padayatra in Raghogarh last year as Youth Congress member, will cut his teeth by joining the family profession.
"Now, Jaivardhan will take care of problems of Raghogarh," Digvijay said in what is seen as an endorsement of this point of view.
In his brief address, Jaivardhan said, "I will do everything to serve the people of Raghogarh".