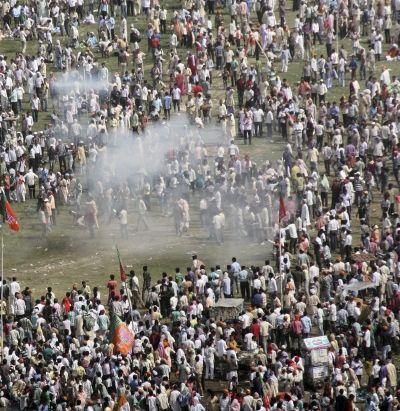 Continuing with the leads provided by the arrested people, National Investigation Agency on Tuesday arrested two more persons from Uttar Pradesh in connection with the blasts outside the rally of the Bharatiya Janata Party's prime ministerial candidate Narendra Modi on October 7.
With the arrest, the number of people apprehended by the probe agency has gone up to eight. Based on interrogation of Ahmad Hussain and Farkruddin, who were arrested by NIA from Mirzapur on Monday, two more people Anil Pandey and Mohammed Raju were arrested from the same area.
The NIA alleged Raju, a resident of Barkachha, had purchased explosives from Pandey, who resides in Allahabad, the sources said. All the four were taken on a transit remand today to be produced before the NIA court in Patna on Wednesday.
Five blasts were triggered in the venue of 'Hunkar' rally of Modi and two had gone off outside. Eight people, including a terrorist of Indian Mujahideen, were killed and over dozens injured.
The NIA, which was handed over the case, has been carrying out the probe into the case and with the help Intelligence Bureau, had nabbed Yasin Bhatkal who had named the main culprits behind the incident.
The NIA was working closely with the central snooping agency and tracking the mobile details of the arrested accused against whom suspicion increased because of transfer of large sums of money. Additional civil judge, Rakesh Kumar Singh granted transit remand to the four who would now be produced before a Patna court on Wednesdat, sources said.
The NIA had on Monday arrested two persons identified as Fakhruddin and Ahmed from Imambara and Chota Mirzapur localities and on their information arrested two others Mohammad Raju and Anil Pandey , sources said. According to police sources, for the past four months intelligence agencies had been keeping an eye on these people and after getting their call details and finding that large sums had been deposited in their bank accounts.
Sources said material used in making bombs and documents were recovered from the house of one of the arrested. Earlier, four people, including Mohammed Imtiyaz Ansari who was apprehended by the public when he, along with another IM accused, was assembling bombs inside a toilet at a makeshift railway station in Patna, were arrested by the NIA.
A cash reward of up to Rs 10 lakh for information leading to arrest of five absconding accused of banned Indian Mujahideen terror group including TahseenAkhtar in Bodh Gaya and Patna serial blasts cases has also been announced. Besides Akhtar alias 'Monu', a resident of Bihar, others named by NIA were Haider Ali alias Abdullah, Numan Ansari, Taufeeq Ansari and Mojibullah, all residents of Jharkhand.
The five operatives of Indian Mujahideen were wanted for their alleged involvement in the planning and commission of terrorist acts including the July 7 Bodh Gaya blasts and October 27 Patna blasts.
While Akhtar, who has virtually taken over India operations of the IM after the arrest of Yaseen Bhatkal, is wanted in connection with the Hyderabad blasts also, Ali is also sought by the agency in another case related to the role of the terror outfit including its finances.
While five monks were injured in Bodh Gaya blasts, eight people died in Patna blasts during Modi's rally.