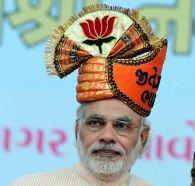 The author of Face to Face, Ved Mehta, did not mince his words when he said that Bharatiya Janata Party's prime ministerial candidate Narendra Modi "will be a great danger to India" if he were to rule the country.
The author who is attending the Jaipur Literature Festival made the statement during the a session called 'Face to Face'.
The 80-year-old author, who lost his sight at the age of four, repeated his view when asked again by a reporter after the session on his views on the Gujarat chief minister.
"I think, he is a threat to India," said Mehta. "I know that is not a popular thing to say but that is what I feel," the author added.
However, when another reporter asked if he would call Modi a fascist? He said, "I do not want to call him a fascist but he is a threat to India."
Mehta, one of India's most distinguished essayists, has made a rare Indian appearance. He is the author of more than twenty-four books, including several that deal with the subject of blindness, as well as hundreds of articles and short stories for British, Indian and American publications.
Earlier, while sharing his life experiences, Mehta said he was sent to a blind school when he was 5 where he met 20-year-old Devji. At the age of 15 he was taken to the US as his father was a great believer of western education.
At that time, the Americans had not even heard of India. So Mehta used to tell his fellow students about India.