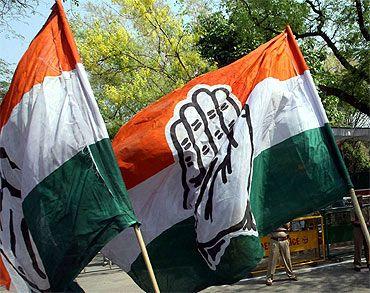 When Congress delegates gathered at Burari in 2011 for a two-day All India Congress Committee session, the political resolution adopted at the meeting was unusually harsh on the Bharatiya Janata Party and its ideological mentor the Rashtriya Swayamsevak Sangh, even going as far as to liken the right wing group to Nazis for its hatred of Muslims.
However, the political resolution under discussion at Friday's AICC meeting refrained from naming the BJP or the RSS. It also maintained a studied silence on the BJP's prime ministerial candidate Narendra Modi.
Congress president Sonia Gandhi did come down heavily on their main political rival's "divisive ideology" and the need to fight it in her opening speech but again did not name the BJP.
The section on "secularism" in the resolution spoke of the "serious challenge faced by the country today from communal and divisive forces. While stating that this threatens to rupture the very basic fabric of the nation's unity and social cohesion, the resolution said the 2014 Lok Sabha elections will be a contest between opposing ideologies -- one that seeks to divide and the other that seeks to united India".
"One, a polarising ideology that militates against the core values which define Indian nationhood and its constitutional democracy and the other a liberal secular democratic ideology represented by the Indian National Congress," the resolution underlined.
On the other hand, the political resolution at the Burari session had said that secularism is "threatened by the ideology of the BJP and its affiliate organisations like the RSS and the VHP."
It went on to state that the BJP, RSS and the VHP are "insidious in their effort to break India" and sought an investigation into the links between the terrorists and the RSS and its sister organisations which have been involved in some recent cases.
The decision to avoid any direct reference to the BJP was surprising as the two national parties are heading into a crucial Lok Sabha election and the battle of words between the two adversaries is expected to get sharper in the coming days once the poll campaign gets underway. Unlike the Congress, the BJP does not hesitate to hit out at the Congress on every possible occasion while Modi's speeches are invariably marked by personal attacks on the Gandhi family, especially Rahul Gandhi.
Congress insiders maintained that the party had taken a deliberate decision to avoid naming the BJP in its political resolution. It was felt that since the general election is round the corner, it would be counter-productive to name its main political adversary or personalise the attack.
"We thought it was more appropriate that we speak about our contrasting ideologies and programmes," a senior Congress leader told Rediff.com.
"Instead it was decided to leave it to individual speakers to attack the BJP more directly", he added.