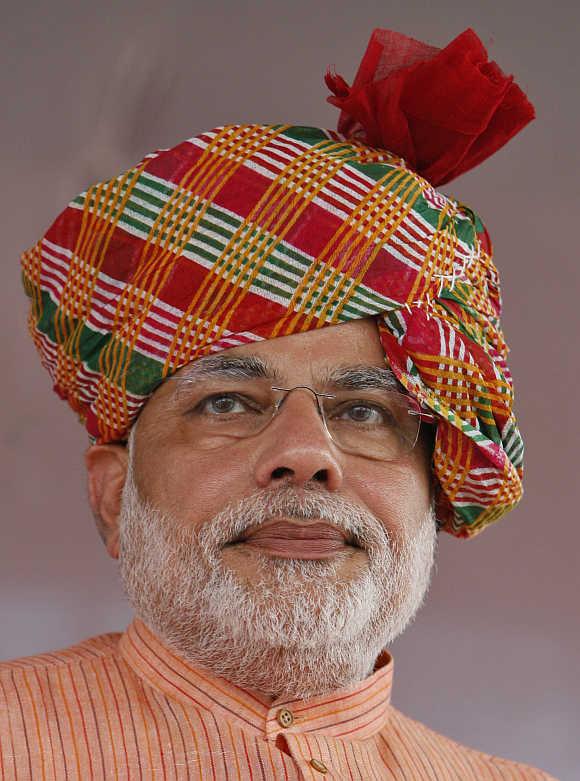 Prime Minister Narendra Modi's spin doctors are on an overdrive these days to project him as a "tough talking" leader following a spate of critical media reports about his sudden silence on key issues, says rediff.com contributor Anita Katyal.
Acutely aware that Modi's image as a vocal and decisive leader is taking a hit, several Bharatiya Janata Party leaders have suddenly started providing insights about the prime minister's style of functioning, even parting with little nuggets about how he conducts the cabinet meetings and deals with allies.
A senior BJP minister was at pains to disclose how Modi had conveyed his displeasure to Shiv Sena chief Uddhav Thackeray about an article in their party's mouthpiece Saamna slamming the National Democratic Alliance government's dealings with Pakistan.
The article had called for an end to the "sari-shawl diplomacy", clearly referring to Modi's decision to gift a shawl to Pakistan Prime Minister Nawaz's mother after Sharif presented a sari to Modi for his mother.
Modi, it was said, took umbrage to these remarks and did not hesitate to convey his annoyance to Uddhav. An angry Modi is said to have remarked, "Why drag my mother into this?"
According to another BJP minister, Modi has made it clear he will not be intimidated by the party's partners. He sent out a strong message at the outset when Modi did not allow Shiv Sena into bulldozing him into giving it a ministry of its choice. The Shiv Sena had asked for the power ministry but was given heavy industries instead with only one minister -- Anant Geete -- being inducted into the cabinet.
Modi, it was underlined, will adopt the same tough posture when it comes to seat-sharing for the coming Maharashtra assembly polls.
The National Democratic Alliance government felt the need for spin-doctoring after questions were raised by the media and BJP's political rivals about Modi's tendency to keep away from Parliament and his sudden silence on issues like the Sania Mirza controversy, the Maharashtra Sadan incident involving Shiv Sena members of Parliament and a Pune techie's murder allegedly by an organisation with BJP links.
This is in sharp contrast to his long-drawn election campaign when he addressed a record number of public rallies, acquiring a larger-than-life image. In fact, effective communication and liberal use of social media were key elements of his election strategy, particularly since his opponents, former Prime Minister Manmohan Singh and Congress president Sonia Gandhi, were derided for not speaking up.
But Modi has been quick to follow in his predecessor's footsteps after coming to power. Besides his speeches at formal programmes and his bland tweets about his meetings with various leaders, he has not spoken up in Parliament or outside on any important issue. In fact, he was not even present in the Lok Sabha when Finance Minister Arun Jaitley replied to the debate on the budget and the Finance Bill.
Not only has Modi kept his from media persons, he has also advised his ministers not to meet journalists or allow any one to their offices with cellphones, cameras or pens.
BJP ministers admitted that after the election campaign when Modi inspired confidence among the electorate with his communication skills, his recent spell of silence has not gone unnoticed. They were, however, quick to defend the prime minister.
Pointing to his busy schedule, they underlined that the prime minister is "very much on the job".
Modi, they pointed out, sits through detailed presentations of different ministries, comes well-prepared for cabinet meetings and does not hesitate to tick off a minister if the need arises. "He is well-aware of the fact that the recent Lok Sabha mandate was for him," a senior BJP minister told rediff.com. This came through clearly at a recent cabinet meeting when he did not take kindly to a minister's decision to bring a note on an issue relating to his ministry without Modi's prior approval.
Another minister recounted how Modi was dismissive of ministers who complained about "lack of fertilisers, schools, roads or infrastructure." On one occasion he told them bluntly, "Why have you been elected… instead of complaining, why don't you fix the problem? It's your job."
Ministers also let it be known that Modi is very much in control and takes quick decisions. He is not in favour of referring issues to groups of ministers or committees as was the practice during the previous regime.
For instance, when the union cabinet recently discussed the constitution of a committee on river-linking, an impatient Modi responded, "What will this committee achieve? It will turn out to be an intellectual coffee club. I would rather set up a task force to implement and deliver on the decisions."
Citing another example of Modi's no-nonsense approach, BJP insiders said he had issued strict instructions to all ministers that they should not rush to locate major projects from their ministries in their constituencies and nor should they bully their colleagues to do the same.
As for Modi becoming incommunicado on coming to power, a BJP minister explained, "You must understand… he is actually a loner by nature. But he is very clear about what he wants to achieve and how he wants to go about it." For the present, the prime minister is focused on kick-starting the economy and delivering on governance, he told rediff.com.