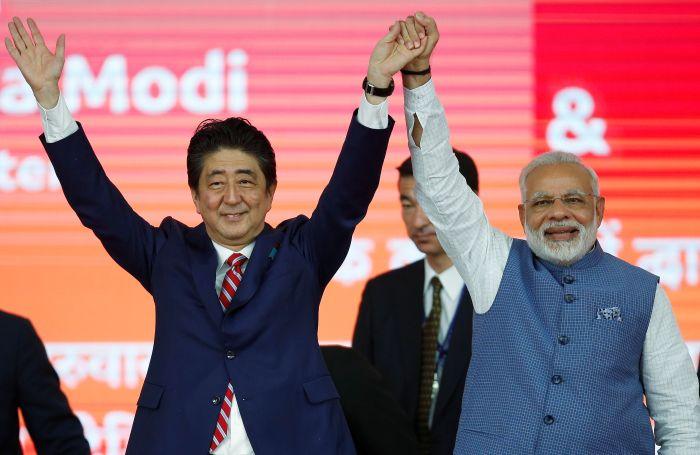 Prime Minister Narendra Modi on Monday congratulated his Japanese counterpart Shinzo Abe on his re-election and said he looked forward to further strengthening the relations between the two countries.
Abe got a resounding victory in the snap polls held on Sunday, with his Liberal Democratic Party-led coalition winning two-thirds majority in the lower house of Parliament.
"Heartiest greetings to my dear friend @AbeShinzo on his big election win. Look forward to further strengthen India-Japan relations with him," Modi tweeted.
Modi and Abe share a great relationship and have met several times over the last three years.
Abe was in India recently for the annual summit meeting with Modi.
Abe's conservative coalition is on track to win at least 312 seats with only a handful left to call, according to public broadcaster NHK, giving him a coveted two-thirds majority in the lower house of parliament.
He had called the snap vote to seek a boost to his parliamentary majority and is likely to use any new powers to attempt to overhaul the country's defense strategy and pacifist stance.
The prime minister said the crushing election victory had hardened his resolve to deal with the crisis in North Korea, which has threatened to "sink" Japan into the sea and fired two missiles over its northern islands.
"As I promised in the election, my imminent task is to firmly deal with North Korea. For that, strong diplomacy is required," stressed Abe, who has courted both US President Donald Trump and Russian President Vladimir Putin.
"My immediate task is to deal with North Korea," Abe told reporters. "It will take tough diplomacy. With the mandate given by the people, I would like to exercise my command in diplomacy."
Even as local media acknowledged what was described as a "landslide" victory, many chalked up Abe's win to a weak and ineffective opposition and urged caution.
"The voters did not think the opposition parties were capable of running a government... they chose Prime Minister Abe, who is at least better, even if they had some concerns about the ruling coalition," said the Nikkei daily.
The Asahi newspaper said: "The Abe brand is not as strong as it was before. There are some signs that voters are seeking a change in the situation whereby Abe is the only decent option."
"Winning an election in a democracy doesn't give the winner carte-blanche and he would be overconfident if he thought people were satisfied with the past five years of government management," said the paper.
With inputs from agencies
Image: Prime Minister Narendra Modi and his Japanese counterpart Shinzo Abe after the groundbreaking ceremony for the high-speed bullet train project in Ahmedabad, September 14, 2017. Photograph: Amit Dave/Reuters