Prime Minister Narendra Modi and US President Joe Biden shared a tight hug as they greeted each other in Hiroshima at the G7 Summit in this Japanese city on Saturday.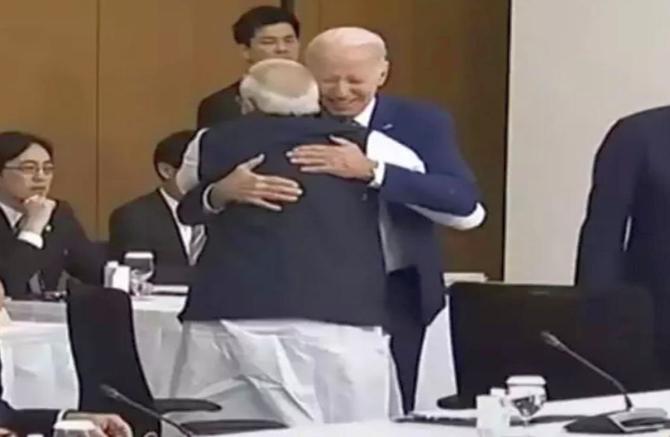 The brief interaction between the two leaders comes ahead of Modi's first state visit to the US next month.
Modi will embark on his state visit to the US next month on an invitation by President Biden and First Lady Jill Biden. The US president and the First Lady will also host Modi at a state dinner on June 22.
Modi's visit to the US comes ahead of the G20 Summit being hosted by India in September.
After becoming Prime Minister in 2014, Modi has made more than half a dozen trips to the United States for bilateral and multilateral meetings with all three American presidents, Barack Obama, Donald Trump and now Biden, but this is for the first time he has been invited for an official state visit, a privilege accorded to America's close friends and allies.
WATCH:
His last visit to Washington was in September 2021 at the invitation of President Biden for a bilateral meeting. He had also attended the first in-person Quad Leaders' Summit hosted by Biden.
Earlier, Prime Minister Modi met President Biden on the sidelines of the G20 Summit in Bali, Indonesia in November last year.
The two leaders also met on the sidelines of the G7 Summit in Germany in June 2022 and before that in May on the sidelines of the Quad Leaders Summit in Tokyo.