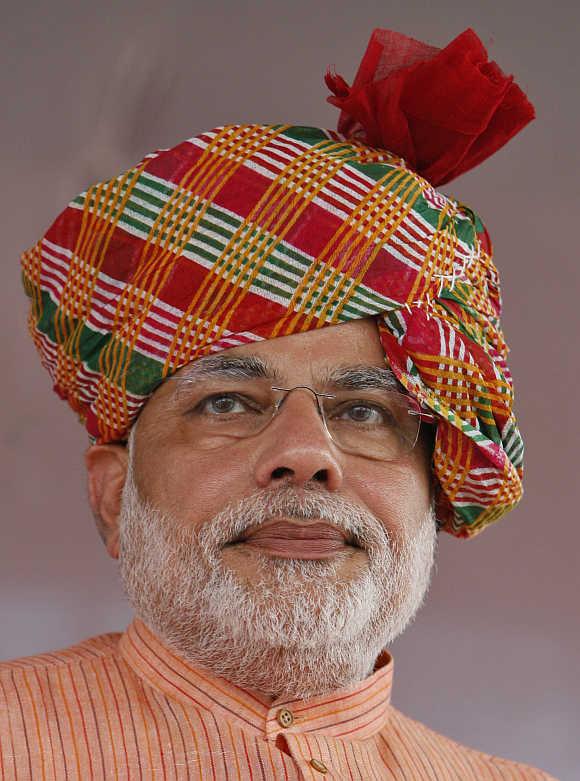 The Congress on Saturday claimed that Narendra Modi's campaign would soon peak as he has nothing new to say and keeps making 'mistakes'.
"He (Modi) does not have anything new to say and if he doesn't have anything new to say, he keeps making mistakes again and again, giving out some wrong figures and facts which are totally different from reality. So, I don't think that this is going to continue for long," AICC Communication Department Chairman Ajay Maken said in New Delhi
While speaking at the Mail Today Realty Conclave, Maken said that people expect something new every time from a political leader.
"People don't expect you to keep on saying the same things again and again," he said.
In the ensuing assembly elections to five states, Modi has been addressing up to three rallies a day.
Asked if the Congress is running behind BJP on tapping social media network, he said, "we have started late and we are catching up with them."
On the emergence of Aam Aadmi Party (AAP), Maken said, they will not be able to win any seat in the forthcoming Delhi elections though they may cut into votes of parties.
"May be they will not be able to open their account also for the first time...they may get votes, they may cut into votes but as far as seats are concerned, I don't see any seats taken by them in Delhi," he said.

Drawing analogy, he said, last time Bahujan Samaj Party did cut into votes, but failed to have an impact.
"They (AAP) are just replacing BSP in terms of percentage of votes," he said.
On the issue of change in guard in Delhi, he said it is up to the incumbent Chief Minister Sheila Dikshit to decide.
"I think that when we are fighting these elections under the leadership of Dixit and she is our chief ministerial candidate, she is the best person to decide on that.

"It is on Dikshit to decide whether to continue or not and if to be replaced, they all have to take a decision," he said.
"My opinion is that she has performed so well in last 15 years and it is on her performance that we are seeking vote for election," he added.

When asked about fighting with the anti-incumbency factor in the Delhi elections, Maken said: "In the past, Delhi has seen more pro-incumbency then anti-incumbency because of the good work done by the government".

On transferring land and police matters to the Delhi government, he said for the betterment of Delhi, both these powers should be given to it.
"If we need to give law and order, public order and land powers to the Delhi government, we need to have a constitutional amendment and in this era of coalition politics, I don't see any political party being successfully able to promise and then deliver.
"Because both the major political parties -- BJP and Congress -- will have to depend on different other partners...and none of these (coalition) parties are willing to cede the powers of police or land to Delhi," he said.

"This is something which I strongly feel and something which our party also strongly feels," he said adding "in the era of coalition, I don't see this happening".

He also expressed hope that the Real Estate (Regulation and Development) Bill 2013 would soon see the light of the day.
The bill aims to establish a regulatory authority for enforcing fair practice and accountability norms and fast track dispute resolution mechanism in realty transactions.
The government plans to set up a tough regulator for the real estate sector. It will also make it mandatory for developers to launch projects only after acquiring all the statutory clearances from relevant authorities.

Maken also pitched for increasing the floor area ratio (FAR) and floor space index (FSI).
"Globally FAR and FSI are in double digits. It is more than 10 and in our country it is only 4. We need to have high rises and high FSI. If the cities have to grow, higher FSI and FAR norms should be there," he added.