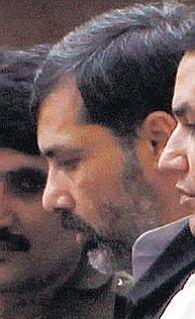 Bahujan Samaj Party Member of Parliament Dhananjay Singh, who was arrested along with his wife Jagriti Singh in connection with the murder of their maid, was on Friday denied bail by a Delhi court.
Additional Sessions Judge Dharmesh Sharma had on Thursday reserved order on Dhananjay's bail application after hearing arguments from the counsel for the prosecution and the MP.
Dhananjay had moved the plea before the sessions court after he failed to get relief from a magisterial court which had earlier dismissed his bail petition, saying the allegations against him were "very serious" and he does not deserve any leniency due his previous conduct.
He had said the magistrate had dismissed his petition without considering the facts and circumstances of the case in an arbitrary manner and without application of judicial mind.
He had also claimed that he has been falsely implicated in the case due to "political pressure".
His bail plea before the sessions court was opposed by the Delhi police. which had said that Dhananjay had incited Jagriti to carry out the "illegal activities" of beating the servants.
The police had submitted that although Dhananjay had filed a petition seeking divorce from his wife, he was in constant touch with her and he did not inform authorities about the torture being meted out to the servants by Jagriti.
Dhananjay and Jagriti were arrested on November 5 in connection with the death of their 35-year-old maid Rakhi Bhadra, a resident of West Bengal.
Dhananjay, who already faces charges of murder and offences under the UP Gangsters Act, was arrested for allegedly destroying evidence, not informing the police about the maid's death immediately and employing a juvenile as domestic help.
Jagriti has been arrested under sections 302 (murder), 307 (attempt to murder), 344 (wrongful confinement) of the Indian Penal code and the Juvenile Justice Act.
The police had said the CCTV cameras were installed in the MP's house to keep a tab on servants' movements and Jagriti controlled cameras through her mobile phone and TV set.
Both are presently in jail under judicial custody.
Dhananjay was also recently arrested by Delhi Police in a rape case in which he was accused of repeatedly raping and criminally intimidating a 42-year-old woman, a railway employee, between 2005-2009.
The police have also booked him for unnatural offence and he is under judicial custody.