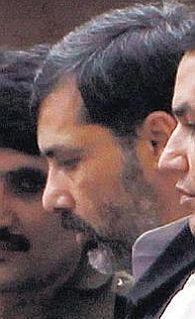 Bahujan Samaj Party Member of Parliament Dhananjay Singh, arrested along with his wife Jagriti Singh in connection with murder of their maid, was on Friday denied by a Delhi court which observed that he had "actively participated" in atrocities which aggravated the miseries of his domestic helps.
Additional Sessions Judge Dharmesh Sharma dismissed his plea saying that if released on bail at this stage, he might influence the witnesses or tamper with the evidence keeping in view his previous involvement in 31 cases of heinous crimes.
"This is not a case of simplicitor failure on the part of applicant/accused (MP) in preventing the commission of such continuous act of atrocities on the part of his wife co-accused Dr Jagriti Singh but also actively participating and thereby perpetrating and aggravating the miseries of his domestic servants," the court said.
"Having regard to the profile of the applicant/accused who has been involved in as many as 31 heinous crimes including murder, extortion, kidnapping and dacoity, it is not difficult to assume that if he is enlarged on bail, he can influence the witnesses and thereby hamper the course of justice," it said.
The court also observed that according to the investigation, the BSP MP has been "reasonably connected" with the crime and has also tamper with the evidence.
"... having regard to the fact that applicant/accused (MP) has been reasonably connected with the offence in question and has tried to tamper with evidence besides the fact that there is reasonable apprehension that if applicant (MP) is released on bail, he might intimidate, influence or try to win over the witnesses, I find that there are no grounds to grant bail to the applicant/accused," the court said.
It also said contents of the first information report and statements of the two key witnesses, who were working as maids at Jagriti's house, prima facie revealed "gory details of continuous diabolic acts and omissions" on his part in not only allowing his wife to indulge in continuous act of merciless beatings the domestic servants but also encouraging and shielding her.
The judge also said the details of investigation prima facie revealed that Dhananjay himself participated in the acts of torture and beatings to his domestic helps whenever they dared to make complaints against his wife.
Dhananjay had moved bail plea before the sessions court after he failed to get relief from a magisterial court which had earlier dismissed his bail petition saying allegations against him were "very serious" and he does not deserve any leniency due his previous conduct.
He had claimed that he has been falsely implicated in the case due to "political pressure".
Dhananjay and Jagriti were arrested on November 5 in connection with the death of their 35-year-old maid Rakhi Bhadra, a resident of West Bengal.
Dhananjay, who already faces charges of murder and offences under the UP Gangsters Act, was arrested for allegedly destroying evidence, not informing the police about the maid's death immediately and employing a juvenile as domestic help.
Jagriti was arrested under sections 302 (murder), 307 (attempt to murder), 344 (wrongful confinement) of the Indian Penal Code and the Juvenile Justice Act.
Both are currently in jail under judicial custody. Dhananjay was also recently arrested by the Delhi police in a case in which he was accused of repeatedly raping and criminally intimidating a 42-year-old woman, a railway employee, between 2005 and 2009.
The police also booked him for unnatural offence in the case and he is under judicial custody in the case.