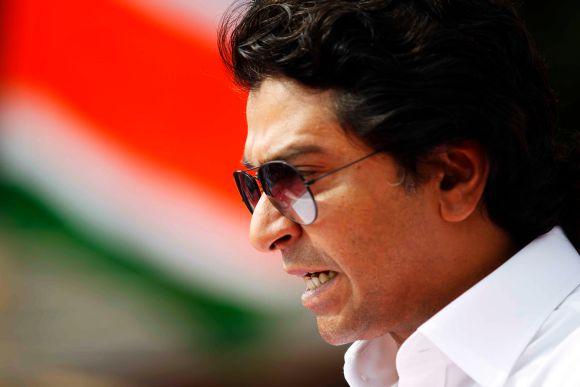 Maharashtra Navnirmkan Sena chief Raj Thackeray on Saturday shot down the suggestion of his party joining the grand alliance of Sena-Bharatiya Janata Party- Republican Party of India to take on the ruling Congress-Nationalist Congress Party in Maharashtra and asserted his outfit will capture power in the state on its own strength.
"We will come to power on our own," Raj said, addressing party workers at the seventh anniversary function of MNS at Shanmukhananda Hall in Matunga.
This is the second time in a month that Raj has ruled out a tie-up with Shiv Sena, led by his estranged cousin Uddhav Thackeray, in the State, where Assembly poll is due next year along with Lok Sabha election. Last month, the Maharashtra Navnirman Sena chief said he had no intention of aligning with anybody.
"There is no thought now of any alliance. Do talks of alliance happen through newspapers?", Raj had said, in a veiled reference to Uddhav's 'merger offer' made through an interview in Sena's mouthpiece Saamana in January.
Responding to a query on whether the warring cousins could come together, Uddhav had said, "one cannot clap with a single hand. Tell me, can you?"
Raj left Shiv Sena in 2005 over leadership issues and formed his own party the next year. Last year, Raj fuelled speculation about a patch-up when he visited his ailing uncle,Bal Thackeray, several times.
In Saturday's function, Raj referred to Uddhav's 'clap' remark. "On Friday, there was another clap (referring to a report in a Marathi daily about MNS joining Sena-BJP-RPI alliance), and I responded with 'Tata' in the afternoon."
On Tata Group Chairman Emeritus Ratan Tata driving to meet him at his residence on Friday, the MNS leader said 'this is a good omen'. "Ratan Tata came. It is not only an honour accorded to me but to you (party workers) also. There was no specific occasion but he came. I consider it as a good omen," Raj said.