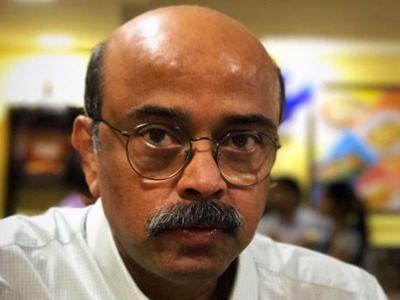 The body of renowned doctor Deepak Amrapurkar, who had gone missing on Tuesday following heavy rains in the city, was on Thursday recovered from a nullah near the Coast Guard office in central Mumbai's Worli, police said.
The Bombay Hospital gastroenterologist had slipped into an open manhole while wading through the water-logged streets near Elphinstone Road station. Torrential rains had pounded the metropolis throughout the day on Tuesday.
Dr Amarapurkar, 58, had left for home on Tuesday evening in his car, but due to waterlogging he left the vehicle near the Elphinstone Road station and started walking, a senior police official had said.
After he went missing, a rescue operation was launched by the police and fire brigade and a complaint was registered in this regard at Dadar police station.
"Police found his body at Worli around 6.30 am in a nullah, which is connected to the city's drainage system and empties into the sea," Assistant Commissioner of Police (Dadar) Sunil Deshmukh said.
The body has been sent to Sion hospital for post-mortem and will be handed over to his family members soon, he said.
"If we find any negligence on the part of the civic body for the open manhole in which he fell, action will be taken accordingly," Deshmukh said.
The Santacruz observatory of the India Meteorological Department registered 331.4 mm rainfall on Tuesday, the heaviest since the July 26, 2005 record of 944 mm, which had caused the worst havoc in decades in the city.
Torrential rain, accompanied by strong winds, had disrupted rail, road and air services, uprooted trees, swamped houses and brought the megapolis and its satellite towns to their knees.
Many people had to spend the night at their respective workplaces as the roads and railway tracks were water-logged.