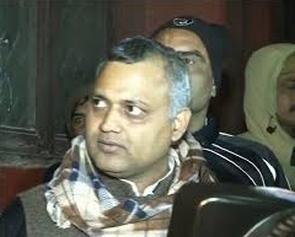 A court in new Delhi on issued notice on Monday to an Investigating Officer of the Delhi police, probing the former Delhi minister Somnath Bharti's purported raid on some African residents last year, to remain present "in person" with final status report after he failed to turn up.
Metropolitan Magistrate Chetna Singh on January 29 had asked Delhi police Investigating Officer to file status report, while refusing to order lodging of a separate First Information Status on a plea by another African woman seeking registration of a case against unknown persons.
However, it had asked Delhi police that the Ugandan woman be made co-complainant in the first FIR lodged on January 19 as she was also "the victim" of the same incident. When the IO did not turn up on Monday with the status report, court directed him to remain present "in person" on August 2. "Information was received that the IO is busy in some emergency duty... IO is directed to remain present before the court on the next date. Notice be issued to IO.
"The IO is also directed to file the final report on August 2, without any further delay," the court said. The FIR was lodged on court's direction after a Ugandan woman had approached it on January 18, 2014 seeking to file a criminal case against unknown persons.
Around five foreign women had recorded their statements before a magistrate in which they alleged that Bharti, the member of Legislative Assembly from Malviya Nagar in south Delhi, had barged into their house along with his supporters on the intervening night of January 15-16, the court sources had said.
In the earlier application filed before the court, the foreign national had alleged that she and the other women were subjected to a cavity search during their medical examination at AIIMS and the then minister and his people had asked them in public to give urine samples.
Television footage on news channels had shown Bharti asking police officers to conduct the raid as he had received complaints of drugs and prostitution racket in that area.
Later, the second African woman had approached the court seeking registration of a separate FIR alleging she was also molested by the group.
On January 19, police had lodged an FIR against unknown persons under various sections of the IPC, including 153-A (promoting enmity between classes), 323 (voluntarily causing hurt), 354 (outraging modesty of women), 509 (uttering any word or making any gesture intended to insult the modesty of a woman), 506 (criminal intimidation) and 147 (rioting) at the Malviya Nagar police station.
The second woman had claimed that the group had forcibly held her hands and took her out of the house along with her sisters who reside with her. After the court had sought police responses on the second complaint, deputy commissioner of police refused to register separate case saying that she had been made witness in the first FIR relating to the same incident.
The court in its order had also said, "as the victim has already been examined as witness and her statement under Section 164 of CrPC has also been recorded no purpose would be solved after lodging of separate FIR".