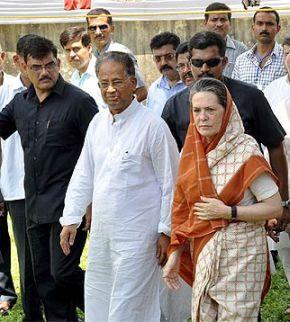 Congress president Sonia Gandhi rejected Tarun Gogoi's offer to resign after the party's poor performance in the state. Anurag Kashyap reports.
Congress president Sonia Gandhi rejected Assam Chief Minister Tarun Gogoi's resignation on Thursday and asked him to continue working, despite the drubbing the party sustained in the Lok Sabha polls.
"The Congress president rejected the CM's offer to resign," said state Agriculture Minister Nilomani Sen Deka said after a meeting with Gogoi.
Gogoi, who met Sonia, did not speak to journalists and was closeted with more than a dozen of his supporters, mostly state ministers, and two former Union ministers, at his residence here.
Bijoy Krishna Handique, a Congress leader and a close friend of Gogoi, said later that Gogoi was in an excellent and upbeat mood. "He has been working and will continue to work as CM," Bijoy said.
Senior member of the legislative assembly Anjan Dutta added that earlier in the day, Gogoi had also spoken to Congress vice-president Rahul Gandhi, Dr C P Joshi, in-charge of Assam's Congress unit and Ahmed Patel. "All these leaders told Gogoi to continue as the CM and added there was no need to resign," Dutta said.
Dissident MLAs, almost 40 in number, have been demanding for a change in the party's state leadership after its poor performance in the recently concluded polls.
Party sources informed that the dissidents had sent a letter to be sent to Sonia Gandhi demanding a change in leadership in the state. Senior minister Goutom Roy, who joined the rebel voices, said it would be only a matter of 15 days before Assam health and education minister Dr Himanta Bishwa Sharma became the new chief minister.
Sushmita Dev, another rebel, had also organised a dinner party two days ago during which a change in leadership was demanded. "It is not a campaign to oust the CM or make someone else the new CM, but a campaign to save Congress.
The whole issue arose after Congress received its lowest ever tally in Assam -- three of the 14 Lok Sabha seats. Following the defeat, Gogoi had admitted 'arrogance and complacency' and offered to resign, saying he would continue working for the people in the state.
With inputs from PTI