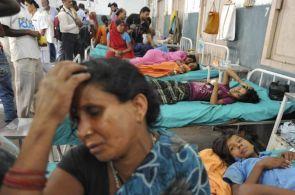 The Bihar police on Thursday conducted polygraph test of Meena Devi, the principal of a government primary school in Saran district where 23 children died after eating contaminated food last month.

A day after Devi was taken on a three-day police remand, a team from the Patna forensic science laboratory, along with two experts of the Central Forensic Science Laboratory from Delhi conducted her polygraph test at the town police station at Chapra, the district headquarters of Saran. Saran Superintendent of Police Sujit Kumar told rediff.com that a team of experts conducted her polygraph test after a medical check up. But he refused to say anything about its outcome.

Devi was arrested by the Special Investigation Team last month and sent to judicial custody until August 5 by a local court in Saran, is named an accused in the case. According to SIT officials, the FSL has also prepared a questionnaire for the purpose.
The SIT, on last Tuesday had filed a petition before chief judicial magistrate A K Jha and had asked for a four-day police remand to conduct a polygraph test on
her. Earlier, she had claimed innocence and denied her involvement in the tragedy. A first information report was registered against her on charges of murder and criminal conspiracy, the police said.
Devi, who was suspended from service for gross negligence, was allegedly evading arrest since July 16, the day of the incident. The police raided her house twice and recovered a bottle of pesticide whose traces were suspected to be present in the school food.
According to district officials, Devi had allegedly forced the cook to use contaminated cooking oil despite the latter's complaint that it had a pungent smell. A forensic lab report confirmed presence of toxic insecticide traces in the cooking oil used for making food at the school.
The poisonous substance, organophosphorus, in oil samples collected from school was more than five times the commercial preparation available in the market, the police said