Bihar education minister tells state assembly that school principal Meena Devi's husband, Arjun Rai, purchased insecticide two days before the mid-day meal tragedy. M I Khan reports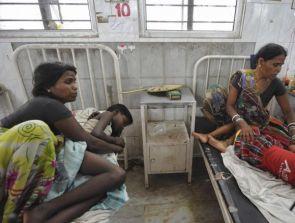 Bihar Education Minister P K Shahi on Monday revealed in the state assembly that the school principal Meena Devi's husband, Arjun Rai, had purchased monocrotophos an insecticide that was found in the mid-day meal that killed 23 school children.
"Two days ahead of the mid-day meal tragedy, Arjun Rai had purchased 250 ml of monocrotophos from a sugar mill on July 14," Shahi said in his reply during the adjournment motion of the opposition to hold a debate on the mid-day meal tragedy.
Shahi said that police have seized all the records including documentary proof in this connection. "The state government will not spare anyone found guilty in the case. The Special Investigation Team is investigating the case," he said.
Dissatisfied with Shahi's reply in the house, opposition BJP members walked out from the assembly in protest.
Meena Devi was arrested by the SIT last Wednesday and interrogated by police officers. She has been remanded to judicial custody till August 5.

A first information report has been registered against her on penal charges of murder and criminal conspiracy, police said.

A forensic lab report has already confirmed the presence of toxic insecticide traces in the cooking oil used for making food at the school.

The poisonous substance, organophosphorus, in oil samples collected from the school was more than five times the commercial preparation available in the market, police said.