The first election that the US and UK-trained Conrad Sangma, who now runs the National People's Party (NPP) formed by his father PA Sangma, fought in 2004 had resulted in a narrow defeat.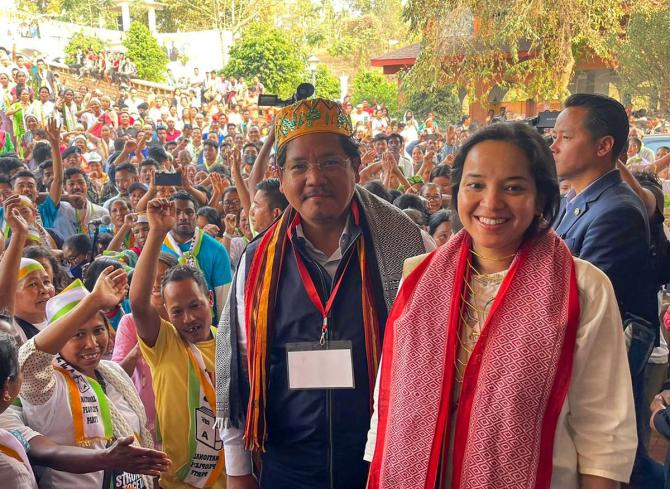 However, since then, the 45-year-old has emerged as a powerful politician in his father's mould, growing stronger by the election. This election, his party seems likely to form a government in Shillong possibly with the Bharatiya Janata Party and the United Democratic Party in tow as the three previous allies inch to cross the half-way mark in the 60-strong assembly.
Parleys have already been held in Guwahati earlier this week between him and BJP's pointsman in the northeast -- Assam Chief Minister Himanta Sarma, known for his deal-making abilities.
Earlier in the day, Sangma told newspersons, "I thank the people of our state for having voted for our party. We are grateful to them. We are still short of the numbers and are waiting for the final results, after which we will decide on the way forward."
Despite the fact that his NPP won 19 seats in the 2018 assembly elections, two less than the Congress which had the largest number of MLAs, Conrad Sangma stitched a coalition with several other parties including the BJP to form the government.
Ahead of this year's poll, however, the saffron party snapped ties with the NPP and decided to go it alone, possibly a tactical move as sentiments in this tribal state ran high after clashes over a disputed border with Assam which the BJP rules.
Elected for the first time as an MLA in 2008, Sangma, who did his MBA in finance, had served as the finance minister till 2009. He was the leader of the opposition from 2009 to 2013 when Mukul Sangma became the chief minister of the Congress government.
In 2015, he ensured the victory of his party in the Garo Hills Autonomous District Council Election. The next year saw the death of his father, a former Lok Sabha Speaker, and he became the president of the NPP.
In 2016, he was also elected to the Lok Sabha in a by-poll from Tura, but two years later, he was back at the helm of Meghalaya.
Apart from politics, he also serves as president of the PA Sangma Foundation which runs four colleges in rural Meghalaya.
Sangma did his schooling from Delhi's St Columba's School, BBA in entrepreneurial management from the University of Pennsylvania, and his MBA in finance from Imperial College, University of London.
The NPP supremo, who is married to a doctor, Mehtab Chandee, has a keen interest in music and musical instruments such as guitar and piano.