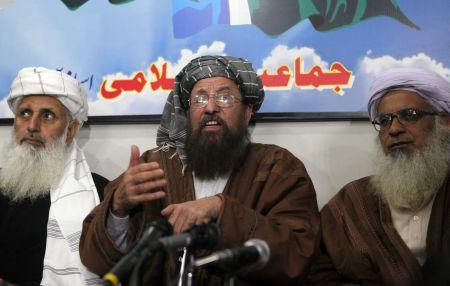 The maiden meeting between the Pakistan government and a Taliban-nominated committee to frame a roadmap for peace talks was postponed on Tuesday, with representatives of the banned group claiming state negotiators had pulled out under "pressure".
The state negotiators said they wanted some clarifications from members of the panel nominated by the Tehrik-e-Taliban Pakistan. They decided a meeting would be useless until the clarifications were made.
But Maulana Samiul Haq, known as the "father of the Taliban", alleged the government was not serious about the peace process. He claimed a military operation seemed imminent.
Senior journalist Irfan Siddiqui, convener of the four-member government committee, informed Haq of the decision to postpone the meeting.
Earlier, the government committee discussed the situation after the TTP nominated its panel and two key leaders -- cricketer-turned-politician Imran Khan and Jamiat Uleme-e-Islam leader Fazlur Rehman -- dissociated themselves from it.
A visibly angry Haq said: "I got a call from Siddiqui saying they were prepared to hold talks with five members (of the Taliban-nominated committee) but now only three are remaining. I told him that we are there and they should talk to us."
He claimed the postponement reflected the government's "non-seriousness". He added: "Our doors are always open. We are ready for talks and they should talk to us.
"We arrived on time for the meeting but the government side didn't turn up."
Negotiators representing the two sides were to hold only preliminary talks to prepare the roadmap and no Taliban leaders were to be part of these talks. The Taliban issued a statement saying the government would have to speak to the persons nominated by it.
The government committee comprises Siddiqui, former ambassador Rustam Shah Mohmand, journalist Rahimullah Yousufzai and former ISI officer Major (retire) Muhammad Amir.
The TTP had named a five-member team -- Jamaat-e-Islami leader Mohammad Ibrahim, Jamiat Ulema-e-Islam-S chief Samiul Haq, JUI-F leader Mufti Kifayatullah, Lal Masjid cleric Abdul Aziz and Pakistan Tehrik-e-Insaf chief Imran Khan.
However, Kifayatullah and Imran Khan declined to join the Taliban committee.
Image: Maulana Sami ul-Haq (C), one of the Taliban negotiators, speaks during a news conference with his team members in Islamabad on Tuesday
Photograph: Reuters