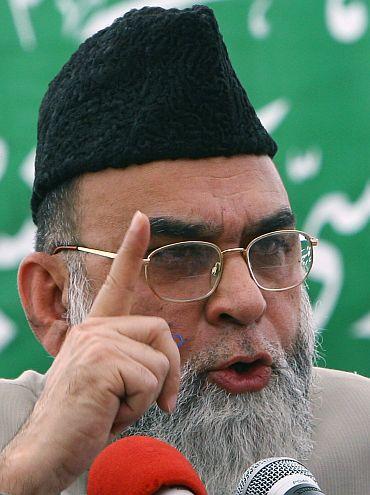 Ahead of the Lok Sabha elections, Trinamool Congress chief Mamata Banerjee on Monday received a shot in the arm when Shahi Imam of Delhi's Jama Masjid Syed Ahmed Bukhari on Monday lauded her work for the minorities in West Bengal, and said she would make a better prime minister for secular India than others.
Rubbishing rumours about a covert pact between the Bharatiya Janata Party and the Trinamool Congress, as alleged by the Congress and the Left parties, Bhukari hoped that Banerjee would not go for a post-poll alliance with the BJP.
"After going through the details of the developmental work that she has done for the development of minorities and Muslims in the state, I personally feel India needs a secular leader like her who beleives in work and not lip service," Bhukari told PTI over phone.
"Given her secular credentials, I personally feel that Mamata would make a better prime minister than others who are in the prime ministerial race in the 2014 Lok Sabha polls," Bhukari said.
Bhukari had written letters to all chief ministers, except those of BJP-ruled states, inquiring about the implementation of recomendations of the Sachar Commission and what practical measures the state governments had taken for the welfare of the Muslim population in their respective states.
"I had written to all chief ministers, except those in BJP-ruled states. But no one of them has bothered to reply to my letter. Only Mamata did with a detailed report of the steps the Bengal government has taken for the development of Muslims," Bhukari said.