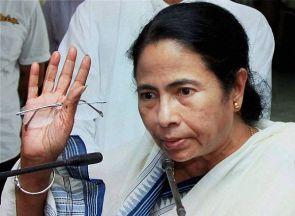 A day after Parliament gave its nod to Telangana to become the 29th state, Mamata Banerjee on Friday attacked the "Congress-BJP syndicate" for clearing the bill to serve their respective political agendas describing the "unholy nexus" as an "alarming signal" for the country.
"I am astonished to see how the syndicate of Congress and BJP worked in tandem to fulfil their own political agendas," Banerjee, chief of the Trinamool Congress which had on Thursday vociferously protested against the bill, wrote in her post on Facebook.
"What will be the future of the country if the two political parties connive in this way to manipulate important legislations affecting states without taking the states into confidence?" she wondered.
She went on to say, "The 'so-called' passing of the Telengana Bill in the Lok Sabha for creation of a new State has been unconstitutional, undemocratic, unethical and illegal, as I had earlier said".
Banerjee, the West Bengal Chief Minister, said when division was sought by the Opposition and amendments were proposed, they were not allowed.
More so, such an important bill was taken up behind closed doors, even blacking out the usual live proceedings of the House on TV, demolishing the very spirit of democracy on that day, Banerjee said.
"This illegally 'so-called' passed bill was then placed in Rajya Sabha and 'so-called' passed. Our party protested how such an illegally passed bill in the Lok Sabha can come up to the Rajya Sabha.
"They are taking decisions unilaterally when election is knocking at the door. Is it fair, ethical, constitutional? This unholy nexus is indeed an alarming signal for the country," she observed.
Creation of Telangana as India's 29th state was approved by Parliament last night with the Rajya Sabha clearing the contentious bill to split Andhra Pradesh after Congress and BJP came together amidst a bedlam.