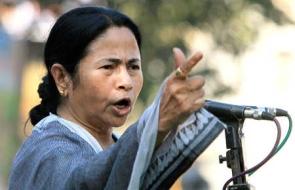 The Bharatiya Janata Party's unit in West Bengal on Friday shot off a letter to activist Anna Hazare, questioning his support for Mamata Banerjee, and contested the 'clean' image of her government.
State BJP President Rahul Sinha pointed out in the letter that even Goa Chief Minister Manohar Parikkar has not taken a government car or bungalow.
"She (Mamata Banerjee) is the torch-bearer of the tyrannical Communist Party of India - Marxist. The CPI-M had given birth to hundreds of chit funds in the state, and the TMC is carefully nursing them," the letter read.
The letter also said that in the last 36 years of the chit funds' existence, not a single bill had been passed in the state to curb them.
"The Sarada chit fund scandal has rocked the state by cheating more than Rs 10,000 crore from rural people of the state," Sinha said in his letter.
Sinha also reminded Hazare that while chit fund scam-affected states like Assam, Tripura, Bihar and Jharkhand were pressing for an inquiry by the Central Bureau of Investigation, the Trinamool Congress government in West Bengal had opposed such a probe.
The letter also highlighted the alleged involvement of District Magistrate Kiran Kumar in a scam with local TMC ministers, involving the North Bengal Development Board.
When it was exposed by commissioner Sri Jayaraman and legal action was initiated, Jayaraman was sent to compulsory waiting and he is waiting till date, Sinha wrote.
The letter also refers to the rise in rape cases and the worsening law and order situation under the present government.
The letter also highlights allegations of huge monetary transactions on appointments made beyond the merit list.
"Annaji, this is just a few glimpses of your patronised CM. She is giving money to illicit liquor consumers (stopped by high court). She is giving money to clubs (for patronising hooligans), she is spending enormous money for fun and fiestas, which could have been given to the poor or could have been used for the development of West Bengal," Sinha alleges in the letter.