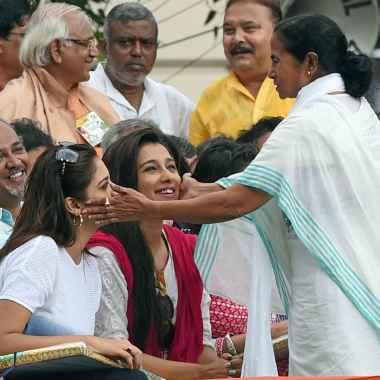 West Bengal Chief Minister Mamata Banerjee on Monday called for movement against Narendra Modi government at the Centre in view of rising prices and said the Bharatiya Janata Party would not be able to emerge a major political force in the Trinamool Congress-ruled state.
"Within a month after coming to power, the Centre has increased the prices of petrol, diesel and hiked rail fares and freight rates. They (BJP) had said many things before the elections but after coming to power they are doing just the reverse. We will launch our movement against these democratically," Banerjee said while addressing a rally in Kolkata.
In an attack on BJP, the TMC supremo said West Bengal has no place for the 'communal party'. "After bagging two seats (in the general election) in Bengal they (BJP) are making so much propaganda and telling so many lies. In Bengal in the next election, they will not get even those two seats. The number of seats will not cross two at any time."
"Attempts are being made at many places to incite communal riots and I urge you to remain alert," Banerjee said adding her government would not tolerate communal tensions.
She asserted that the TMC government in the state would work for equality of all castes and creeds.
The rally saw the switching over of four MLAs -- three from Congress and one from the Communist Party of India-Marxist to TMC in Banerjee's presence, apart from hundreds of local leaders and workers from differt opposition parties.
Magsaysay awardee and noted author Mahasweta Devi and a number of Bengali film stars also attended the rally.
Originally observed as Martyrs' Day in remembrance of 13 Youth Congress activists were killed in police firing on July 21, 1993, TMC has now christened it as 'Maa Maati Manush Divas'.
Traffic in Kolkata was gridlocked through the day due to the rally. Lakhs of people from the districts converged in the city to participate in the rally, which was also billed as thanksgiving for the party's success in the state in the general election.
A large number of city schools either declared Monday a holiday or gave over early. The office-goers had a harrowing time with fewer of buses and other public vehicles.
Police officials, who were deployed in strength, diverted vehicle movement along the route of the processions by TMC workers and supporters.
TMC has repeatedly alleged that former Chief Minister Buddhadeb Bhattacharjee who was the information and culture minister in 1993 had ordered the firing on the anti-government protest rally which was led by Banerjee herself on July 21 in 1993.
Banerjee, who was a Congress leader back then, was demanding that voters' ID card be made the sole document for voting and led a march to the state secretariat, Writers' Buildings.
Bhattacharjee had on February 26 deposed before the July 21 Commission set up by Mamata Banerjee government to probe the police firing.
He had maintained that the police was forced to open fire on the protestors only as a final recourse as they turned violent and tried to lay siege to Writers' Buildings.
Over the past couple of months, a sizeable number of Left Front, Congress and even Trinamool Congress workers have joined BJP, which is eyeing the municipal polls slated to be held later this year or early 2015 to raise its stature in the state where it has been traditionally weak.
Banerjee also warned against rise of communal forces in the state and asked Left parties workers joining BJP to refrain from doing so and join TMC instead to work for the people.
"You should not come to politics if you don't have any principles and values. If your party is not in power then you switch sides. If you have a small amount of principle and values left in you then come to Trinamool Congress and work for the people.
"But please don't sell yourselves in front of money power. Some people are working as stooges of communal forces," she said.
Image: Mamata Banerjee greets Tollywood actresses at the rally in Kolkata on Monday
Photograph: PTI