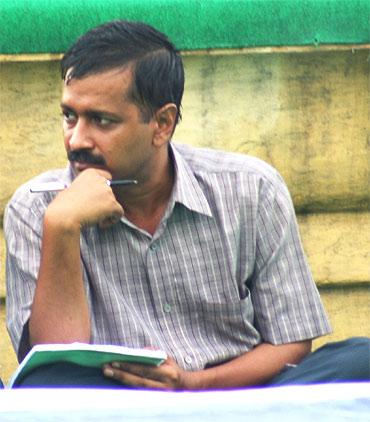 Twenty-seven Aam Aadmi Party members of Legislative Assembly led by Arvind Kejriwal met Lt Governor Najeeb Jung and told him that delay in dissolving the Delhi assembly was "encouraging horse trading".
"We met L-G and explained to him the current political situation and also possible horse trading which may take place. Such a government will do no good," AAP MLA and former Delhi Law Minister Somnath Bharti told reporters in new Delhi on Monday.
Bharti said the L-G told them that he would talk to both the Congress and the Bharatiya Janata Party and soon send a report on the matter to the President.
Soon after the meeting, Kejriwal tweeted, "Met LG. Had good discussions. He will now invite the BJP for discussions. If the BJP claims they can form govt, LG will ask them to show nos."
"We told him that delay in dissolving assembly was encouraging horse trading," Kejriwal said.
The AAP had on Sunday claimed that the BJP was "running away" from fresh elections in the national capital and also questioned the Congress's "silence" over whether or not it wants the Delhi assembly to be dissolved.
"The double-meaning statements and consistent U-turns by the BJP on the current political situation in Delhi makes it clear that it is running away from fresh elections and wants to resort to the 'Aaya Ram, Gaya Ram' culture, against which the Supreme Court had warned on April 17 of this year," an AAP spokesperson had said.
On the other hand, the Congress's silence on whether it is willing to officially communicate in writing to the Lt Governor and Supreme Court that Delhi assembly should be dissolved proves that it is indirectly supporting BJP's 'Aya Ram, Gaya Ram' brand of politics, he had said.

Image: AAP chief Arvind Kejriwal