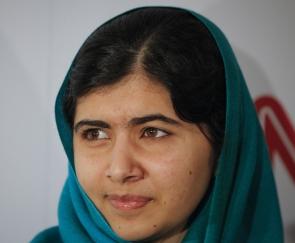 Pakistani teenage rights activist Malala Yousafzai says she wants to become the prime minister, following in the footsteps of her role model late Benazir Bhutto, and aspires to use that position to serve her nation.
"I want to become the prime minister of Pakistan," 16-year-old Malala, who survived an assassination attempt by the Taliban last year, said here during a special live recording of her interview with CNN.
Malala, among the top contenders to win this year's Nobel Peace Prize, was accompanied by her father and spoke about the fateful day last year when Taliban gunmen boarded her school bus and shot her in the head at point blank range.
She also spoke about her dream of working for children's education, the global recognition she has received from heads of states and organisations, her thoughts on being the frontrunner for the coveted Nobel and her liking for pop icon Justin Bieber's and Selena Gomez's songs.
She counts Bhutto, Pakistan's first woman prime minister, among her "heroes" and says she "admires her the most". Malala said she would want to lead her nation in the future and politics would provide her a platform to serve the whole country.
She said she had earlier harboured dreams of becoming a doctor but now wants to join politics.
"I think it's really good because through politics I can serve my whole country, become doctor of the whole country, help children get education, help them go to school, improve the quality of education," she said amid a thunderous applause from the audience of over 200 people, including young children.
Malala said as prime minister of her country she will be able to "spend as much fund (I want) from the budget for education and also take care of foreign affairs." She said despite being shot by the Taliban and having faced death, she has not stopped dreaming and aspiring to work for the cause of education.
"The Taliban can shoot my body, but they cannot shoot my dreams," she said, adding that the Taliban made their "biggest mistake" by trying to kill and silence her.
"This cause is never going to die. A day will come when every child, girl or boy, black or white, Christian and Muslim, he or she will be going to school," she added.
"They shot me, they made the biggest mistake, they ensured that even death is supporting me. Even death does not want to kill me and now I am not afraid of death. First I might have been (afraid of death) but now I am totally not afraid of death," Malala said.
On being among the front-runners to win this year's Nobel Peace prize, Malala said she still has a lot of work to do before she feels deserving of the coveted honour.
"Everyone who has won the Nobel Peace Prize has deserved it," she said, adding that she had first read about the prize in her school curriculum.
"But when I think about myself (winning the Nobel Peace Prize), I still have a lot to do, it is really an early age," she said with a smile. Malala said she will feel proud of herself when "I would work for education, when I would have done something, when I will feel confident that I have built that school, done that teacher's training, I have sent that many children to school, then I will feel proud."
"Then if I win the Nobel Peace prize, I will say I deserve it," she said to a loud applause and cheer from her audience. She said getting the Nobel prize "will be such a great honour and more than I deserve" adding that it would be a huge responsibility also.
The prize would help her in taking her campaign for girl's education forward. "The most precious goal I want to get and am thirsty for is to see every child go to school. That will be the award of peace, education and harmony," she said.
Image: Malala Yousafzai poses during a photo opportunity before speaking at an event in New York.
Photograph: Shannon Stapleton/Reuters