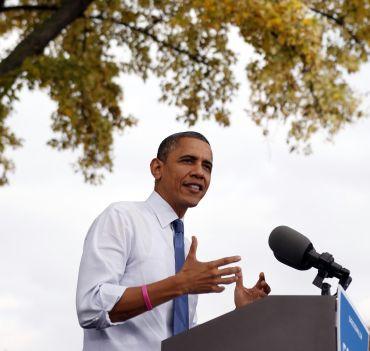 With less than a week left for the November 6 presidential election, majority of Americans believe that United States President Barack Obama is better poised to win the elections than his Republican challenger Mitt Romney, the Gallup poll has said.
A majority of Americans continue to believe that Obama will win re-election over Romney, by 54 per cent to 34 per cent, the Gallup said which took the polls over the weekend on October 27 and 28.
"These views are roughly similar to where they were in May and August, although slightly more Americans now do not have an opinion either way," it said.
Since this poll was taken before Hurricane Sandy, it is unknown what effect the storm will have on Americans' voting preferences.
"The majority of Americans continue to project an Obama win on November 6. This is the case even though the general perception is the race is highly competitive and the outcome still very much in doubt.
"National polls generally show a tight race with many, including Gallup, giving Romney an edge.
State-level polls suggest Obama doing slightly better in key battleground states that will decide the electoral college winner," it said.
More generally, Americans may believe the incumbent has a natural advantage when competing for a new term.
In three separate polls conducted over the 2004 presidential election, voters twice viewed incumbent George W Bush as the probable winner, including 56 per cent who said so the final time Gallup asked the question before the election.
In 1996, an overwhelming majority (69 per cent) saw incumbent Bill Clinton as more likely to prevail than his opponent Robert Dole (24 per cent), it said.
On Wednesday evening, Romney, who had been maintaining a slight national lead over Obama for the past few days lost the edge on the RealClearPolitics average of all major polls, which was now tied at 47.4 points for both the candidates.
A joint poll by Quinnipiac University/CBS News/New York Times revealed that Obama is leading by five points in the crucial swing State of Ohio, and has gained ground in another two battleground States of Florida and Virginia.
Obama now leads Romney 50 per cent to 45 per cent among likely voters in Ohio -- exactly where the race stood on October 22, the poll said.
His lead in Florida, however, has shrunk from nine points in September to just one point in the new survey, which shows Obama with 48 per cent support and Romney with 47 per cent.
Obama's lead in Virginia has shrunk from five points in early October to two points in the new survey, which shows him with a 49 per cent to 47 per cent advantage.
Image: Obama addresses a campaign rally in Davenport, Iowa
Photograph: Kevin Lamarque/Reuters