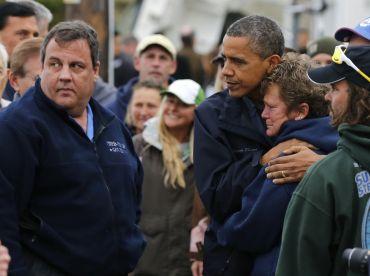 After a slow start to the campaign, US President Barack Obama has bounced back with a masterstroke, reports Rediff.com's Bikash Mohapatra, who is covering the American presidential elections.
Barack Obama's campaign is back on track.
Having sleepwalked through the first debate the American president had seen rival Mitt Romney inch close in most of the exit polls and even get ahead in a few.
However, Obama has since strove to regain lost ground.  
Also Read: Romney's 5-point plan to take US on a new course
Besides getting the better of his Republican rival in the subsequent debates, the president has also made a few right moves.
The one pertaining to the aftermath of Sandy being one such.
While both the candidates had to either postpone or reschedule their campaign following superstorm Sandy that hit the American East Coast, it was Obama who happened to visit the ravaged New Jersey first, this despite the fact that the state is administered by a rival party candidate.
Strategists have called the move a masterstroke.
"I think he (Obama) is reaping the rewards of Sandy," said political expert Seth McKee.
"I mean when you have the president of United States shown on national television walking with a Republican governor to the disaster site that makes the Romney campaign wanna scream," he continued, adding, "They want to break furniture when they see that for it is a terrible site."
And while the president was being briefed about the extent of the damage by Governor Chris Christie, rival Romney had resumed his campaign in faraway Florida, coincidentally a swing state that played a key role to Obama's election in 2008.
It is not for the first time during this campaign that Obama has made an impression in the rival camp.
Earlier in the week Virginia Governor Bob McDonnell did not hesitate in crediting the president's efforts to get the state out of the recession.
"Did (the stimulus) help us in the short-run with health care and education and spending to balance the budget? Sure," he admitted, when asked if Obama's policies were responsible for Virginia's economy bouncing back.
"I think there are national policies that have had some impact," added McDonnell.
While Romney did exceedingly well (in recent weeks) to put the ball back on the incumbent's court, the latter has responded by hitting it right back.
Image: Obama, with New Jersey Governor Chris Christie at his side, hugs a superstorm affected woman as he tours damage done by Hurricane Sandy in Brigantine, New Jersey, on Wednesday
Photograph: Larry Downing/Reuters