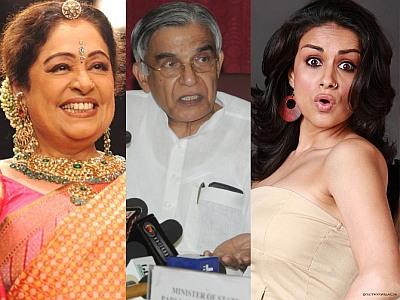 Sitting MP Pawan Kumar Bansal faces two dimpled beauties. Which one will the city choose?
Chandigarh's Lok Sabha contest is now a high voltage affair.
In the fray is Gul Panag -- former beauty queen, actress, Twitter star and a legendary general's daughter -- a whiff of fresh air, from the Aam Aadmi Party.
The BJP's nominee is Bollywood's preferred mum, the very glamorous Kirron Kher, nee Kiran Thakur Singh.
There is also the genial but alas! now somewhat tainted Pawan Kumar Bansal from the Congress.
All three contestants are natives of Chandigarh, though Kirron and Gul now live in suburban Mumbai.
Chandigarh isn't the only thing they have in common.
Gul, a former Miss India and Lieutenant General H S Panag's daughter, has striking dimples which become visible each time she giggles.
Whenever Kirron laughs, her dimples flash.
Bansal, Chandigarh's sitting MP, has little reason to giggle or smile these days, but when he was told that a 'villain' is facing two leading ladies, he smiled, showing his own set of dimples.
Now it is up to Chandigarh's voters to take a call on which dimples they prefer.
Yesterday, Sheela said: How Modi can change the BJP
Yesterday's Gupshup: Time to appease the gods